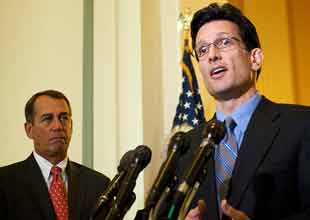 Fight disinformation:
Sign up
for the free
Mother Jones Daily
newsletter and follow the news that matters.
On Wednesday, House Republicans plan to rush to the floor a bill that would eliminate the federal government's presidential financing system—in the process, violating recent pledges by the GOP's leadership of increased transparency and debate in Congress. Not one hearing has been held on the legislation, nor has a single commitee debated its merits. If it passes, it will roll back more than 30 years of law born out of the Watergate scandal, eviscerating one of the few remaining protections stopping corporations from heavily influencing, if not outright buying, American elections, reform experts say.
Democratic lawmakers and campaign finance reformers blasted the bill, not only for seeking to kill public financing but for breaking the GOP's campaign promises on transparency and accountability. "This is a sneak attack on the system," says Rep. Chris Van Hollen (D-Md.). "It's a total break from their public pledge for transparency and openness." Fred Wertheimer, a longtime campaign finance reform advocate at Democracy 21, called the bill "a gross abuse of the legislative process."
House Republicans' much-touted "Pledge to America" bashed Democrats for "limiting openness and debate" during the legislative process and vowed to "ensure that bills are debated and discussed in the public square." The Pledge says the GOP "will fight to ensure transparency and accountability in Congress and throughout government." And in House Speaker John Boehner's first remarks after taking control of Congress' lower chamber, he spoke of a greater emphasis on "real transparency" and "greater accountability." He went on, "Above all else, we will welcome the battle of ideas, encourage it, and engage in it—openly, honestly, and respectfully."
Last week, Rep. Eric Cantor (R-Va.), the majority whip, announced with little fanfare the GOP's plan to introduce and vote on the bill. The legislation to repeal public financing was first floated in by Rep. Tom Cole (R-Okla.) in June 2009. But it wasn't until House Republicans added the elimination of the Presidential Election Fund, as it's officially called, to their "YouCut" initiative, an online list of federal programs that citizens can vote in favor of cutting, that the bill gained momentum. Cantor's "YouCut" site claims that cutting the program, which also funds party conventions, would save $520 million over the next ten years.
A spokeswoman for Cantor declined to comment beyond Cantor's announcement of the public financing bill. A spokeswoman for Cole confirmed that the bill has not been the subject of any congressional hearings.
Public financing of presidential campaigns provides matching tax dollars to the small donations received by candidates who agree to publicly finance their campaigns, instead of relying on private donations. The intent is to encourage small donations, and the burden on taxpayers isn't much: Americans can voluntarily contribute $3 to the fund on their federal tax filings. The public finance system was created in the aftermath of the Watergate scandal in the mid-1970s. After President Richard Nixon's re-election campaign was found to have illegally accepted hundreds of thousands of dollars from big corporations, Congress created a public financing system so that candidates wouldn't have to rely on corporations and deep-pocketed donors to finance their campaigns.
Since 1976, every Democratic and Republican presidential candidate has used the public financing system except Barack Obama's 2008 campaign. Obama opted out of the program and instead raised $745 million from small and large private donors and corporations, according to the Center for Responsive Politics.
The way reformers see it, the presidential public financing system needs repair, not repeal. Meredith McGehee, policy director at the Campaign Legal Center, says the amount of public funds currently available to candidates is too small to be competitive in modern presidential races. She says lawmakers need to update the system to better emphasize small donations to candidates and raise the total amount of public funding available. "Imagine if you didn't make any changes to the tax code since 1976. Of course public financing is outdated. The issue, then, is not to get rid of, but how to fix."
Legislation to make presidential public financing more competitive has won support from both parties in the past. In 2003, Sens. Russ Feingold (D-Wisc.) of and John McCain (R-Ariz.) introduced a bill that would reform the public financing system; Reps. Christopher Shays (R-Conn.) and Marty Meehan (D-Mass.) filed a companion bill in the House. "The public financing system for presidential elections, which aims to allow candidates to run competitive campaigns without becoming overly dependent on private donors, is a system worth improving and preserving," the lawmakers said in a joint statement.
More recently, Rep. David Price (D-NC) introduced the Presidential Fund Act, which would notably increase the funds available to candidates who opt in to public financing. In 2007, when Price introduced his bill, cosponsors included three Republicans—Reps. Mike Castle of Delaware, Todd Platts of Pennsylvania, and Shays. (Castle and Shays no longer hold office.) Price offered the bill again in 2010, and says he intends to offer it yet again in the 112th Congress. As for the Republicans' plan to gut public financing, Price remarks that it "looks like the Republican Party moving to toss red meat to the tea party."
Already good government groups and campaign finance reformers are drumming up opposition to the GOP's plan. Craig Holman, a lobbyist for the public interest group Public Citizen, says his organization and others like it will urge lawmakers to oppose the GOP's bill because it violates the GOP's transparency promises, both on the 2010 campaign trail and now as the House majority. "This just came out of the blue, has had no deliberation and no discussion within the Republican and Democratic conferences," Holman says. "They have just been seated and they're already breaking the ground rules on how they'll do business."