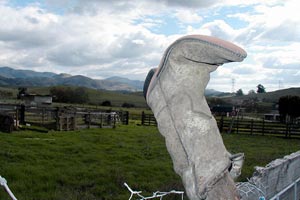 Fight disinformation:
Sign up
for the free
Mother Jones Daily
newsletter and follow the news that matters.
I caught an NPR segment a few weeks ago that raised the question of whether it's possible to have "eco-conscious fur." The story centers on a project down in Louisiana where they're turning the pelts of nutria—an invasive, semiaquatic mammal that looks rather rat-like—into high-end fashion pieces. (It's a subject we've covered in a previous Econundrum as well.) The segment got me thinking about whether fur, or for that matter, any other animal-derived material used for clothing, is inherently a bad environmental choice.
I can't say I own many articles of clothing that involve fur, real or fake, but I've been opting for so-called "vegan leather" (or, if you prefer, "pleather") for years, sort of assuming that it was the more conscientious choice. My boots, in addition to involving zero dead animals, were also quite a lot cheaper than the real deal. But you get what you pay for, and at barely a year old, the soles are already detaching from the fabric, and the toe is scuffed irreparably. My cheap knock-offs might not have been a great investment—whereas a good set of real leather boots can last a decade, if not longer (sorry, PETA). My kickers are likely destined for the landfill in the foreseeable future.
I've also realized that I really have no idea what my synthetic leather boots are made of. The best I can discern from the label stamped inside of them is that they were made in China with "All Manmade Materials." Most fake leathers are made of some kind of plastic product—which was almost certainly derived from petroleum. Some faux leathers are even made of polyvinyl chloride (better known as PVC), a product that contains, among other not-so-nice chemicals, phthalates.
Thinking about nutria coats and my mystery boots got me wondering how people who work on making our fashions more environmentally friendly evaluate what qualifies as a smart, sustainable choice. The question is not as simple as synthetic versus natural fibers, says Huantian Cao, a professor in the Department of Fashion and Apparel Studies at the University of Delaware. The school launched a Sustainable Apparel Initiative in 2008, an attempt to help the apparel and retail industries make smarter choices on this front. "Natural fibers and synthetics have their own problems," says Cao. For nearly every option, one can list off pros and cons. Petroleum for plastics is a depleting resource. Most cotton production involves a lot of water and a chemical pesticides and fertilizers (less than 1 percent of the world's cotton is organically produced). Some companies are starting to make plastics from renewable biopolymers, derived from sources like corn, but those come with the same land-use and lifecycle concerns as biofuels. The list goes on and on.
Plenty of things to think about that go into making apparel often fall off the radar, like the types of dye, the temperatures needed to set them, and the amount and type of chlorine needed to bleach fibers, says Lynda Grose, a fashion designer and assistant professor at the California College of the Arts. Grose also points out that, while many of the synthetic fabrics are derived from non-renewable petroleum resources, a number of companies are working on closed-loop recycling programs that will allow you to return worn out synthetic products made from things like polypropylene—sometimes used to make long underwear and other technical gear—which would then be turned into new products from the same material. The outdoor apparel giant Patagonia has been at the forefront of efforts to develop this kind of closed-loop recycling for clothes. Timberland has launched a similar option for their shoes in a program called Design for Disassembly. Both programs let customers drop off the used items at their stores for recycling. If these kinds of closed-loop programs take off, says Grose, "You could find ways to use this non-renewable resource in perpetuity."
But even looking at it as a question of comparing apparel choice A with choice B is probably the wrong place to begin, says Gwendolyn Hustvedt, an assistant professor of fashion merchandising at Texas State University. "When you start the conversation with 'How should I shop?' rather than 'Should I shop?' then you've already given in a little bit."
Of course, if you want something new, there are plenty of ways to acquire new-to-you things—like shopping at thrift and consignment shops or hosting clothing swaps. If you are looking to buy something that's actually new—particularly something like a pair of boots or a jacket—"You're better off focusing on something you know you're going to keep for a long time, that's going to stand up to the care or not need as much care," says Hustvedt. It's generally good policy to spend a little more on something that is going to last you longer.
Pete Lankford, design director for Earthkeepers and Timberland Boot company, notes that while there are plenty of things to be concerned about in the leather-making process, from the resources that go into raising the cows to the industrial processes at tanneries, the products stand the test of time. "Leather wins hands down over anything you can think of," says Lankford. If you can buy a pair of boots that last twice as long as a synthetic alternative, you'll end up with half the environmental impact in the long run, he notes. Timberland and other major retailers, meanwhile, have partnered to form the Leather Working Group to craft a rating system for tanneries based on their efforts to reduce their environmental impact.
The takeaway: Cheap, flimsy options like my boots, whether they come from animals or oil products, are the junk food of fashion. They may be satisfying in the moment, but not good for you (or the planet) in the long run. "That's the fashion Twinkie," says Hustvedt. "So if you're asking if it's better to by a polyester Twinkie versus a cotton Twinkie, they're still Twinkies."
Photo Credit: Slider image by idhren
Got a burning eco-quandary? Submit it to econundrums@motherjones.com. Get all your green questions answered by visiting Econundrums on Facebook here.