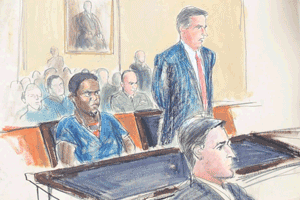 The courtroom doors opened today on the final scene in the trial of Ahmed Khalfan Ghailani, the first Guantanamo detainee to be tried in a civilian court. Much was the same as it had been during Ghailani's six-week trial on 283 counts involving his role in the 1998 bombings of the US embassies in Kenya and Tanzania. There were the double security searches, the long lines, the ban on phones and water bottles. The cast of characters was familiar: The lead defense attorney, Peter Quijano, came dressed in his signature dark designer suit and ostrich boots. The prosecutors were quiet and serious. And once again, victims and relatives of the victims—from the U.S., Tanzania, and Kenya—filled the back rows of the courtroom.
Familiar as well was the role of the judge. White-haired, spirited, always thoughtful, sometimes jocular, he had seemed throughout the trial an embodiment of the word "judicious." Today, he reflected aloud on the personal challenge the case had posed for him. "This trial has been as divorced from any questionable practice that may have been engaged in by anybody other than the defendant as this human being is capable of having made it."
That, of course, was in part a hint at the shadow of torture, which hung over the proceedings from the earliest pre-trial days. Judge Kaplan had insisted back then that torture was not a matter before his court—but he also ruled that the government's chief witness, Hussein Abebe, could not testify because the government had only located him because of information extracted from Ghailani under torture. Letting him testify, Kaplan said then, would be "fruit of the poisonous tree."
But while all of these parallels marked today's hearing as part of a familiar proceeding, the major portion of the hearing also presented something unprecedented. The sentencing, though it included discussion of torture, centered on another kind of suffering—that of the victims. Eleven victims and family members spoke in a ritual that has become customary in violent-crime prosecutions. The three men and eight women detailed the events of August 7, 1998, the day the two embassies were bombed by al Qaeda. In heart-rending disquisitions, they spoke of the grief and sorrow that has colored their lives since the attack on the embassies. "My heart is still crying out," Elizabeth Maloba, a widow dressed stylishly in black, told the court. "I'm just like a zombie," survivor James Ndeda said. "We have pain every day," said Yasemin Pressley, describing the long-term effects of the injuries her husband suffered from that day. "This affected our kids, this affected our dreams, this affected our jobs. We don't have careers anymore. Our dreams are gone…. And we will never, ever be pain free."
They appealed to the judge for justice—though what they meant by that, it soon became clear, meant far more than a ruling of law. "I hope Ghailani dies conscious of the fact that his soul will be condemned forever," said Howard Kavaler, who lost his wife in the bombings. Elizabeth Maloba told the judge that her son had said, "Mom, I wish I had a gun. I would just go straight to that court and shoot whoever killed my dad." James Ndeda acknowledged that "the law has to take precedence, but admitted that "If I were in this position, as the judge, I would, with the hand of pain I have and anger, sentence Ghailani to hang." He went on to add that he wished Ghailani could be imprisoned in Africa, since a US prison was a "five-star hotel" in comparison.
The defense's task was to speak on the heels of these anguished statements. In his deep, calming voice, Quijano asked for compassion for his client. Ghailani, too, had suffered, he said, at the hands of US torturers, the CIA, the American government. He truly believed his client to be innocent, Quijano added: "As someone who has come to know him, I believe he is anything but what the government has depicted him as.
But the fact is that Mr. Ghailani is more than just an individual accused of being involved in a crime that led to the deaths of hundreds. He is the only chance this country has had since 9/11 to render judgment on someone tied directly to an act of terrorist murder. His is a symbolic case.
Perhaps recognizing this, the judge himself made it clear that he disagreed with Quijano—he thought that Ghailani was guilty in more ways than the jury had seen fit to rule, that he knew about the crime or was engaged in "conscious avoidance" of that knowledge. "The conspiracy of which Mr. Ghailani was convicted was carried out," he noted. "It killed 224 people. It injured thousands, many of them severely. It was a cold-blooded killing and maiming of innocent people on an enormous scale. It wrecked the lives of thousands more who were not killed or physically injured, but who lost loved ones and breadwinners and had their lives changed forever."
The judge could have left it at this—the legal merits. But he had something else he felt it important to say. "Whatever Mr. Ghailani suffered at the hands of the CIA and others in our government," he went on, "and however unpleasant the conditions of his confinement, the impact on him pales in comparison to the suffering and the horror that he and his confederates caused. For every hour of pain and discomfort that he suffered, he caused a thousandfold more pain and suffering to entirely innocent people." Judge Kaplan, who gained so much for the American legal system in his ruling against torture—and who endured so much criticism for it—, seemed now to be doubting the wisdom of his ruling.
The courts were created to mitigate passions, to subject human rage to civil procedure in the hopes of creating a more peaceable and secure society. But when it comes to terrorism, as the reaction to the Ghailani verdict last fall showed, we are not ready for procedure and its logical outcome: a conclusion that may not satisfy. We are not yet prepared for a verdict that includes acquittals as well as convictions, for a process that goes beyond the symbolic to the unique facts of a case. This trial, proof that civilian trials can work in judge Kaplan's words, "efficiently," and "properly," left us with that difficult lesson as well.