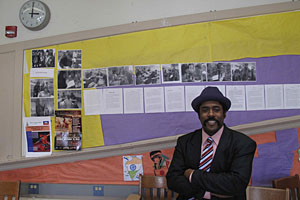 Fight disinformation:
Sign up
for the free
Mother Jones Daily
newsletter and follow the news that matters.
Editors' Note: This education dispatch is part of a new ongoing series reported from Mission High School, where youth issues writer Kristina Rizga is known to students as "Miss K." Click here to see all of MoJo's recent education coverage, or follow The Miss K Files on Twitter or with this RSS Feed.

If you want a sneak preview of mainstream California in about 30 years, just visit any classroom at Mission High School in San Francisco and look around. It's like a mini-UN in there. There are 18 students in Tadd Scott's English class on the morning I sit in; only six were born in the US. During introductions, the students tell me where they're from: El Salvador, Mexico, Sudan, Korea, the Philippines, Vietnam, Panama, China, Ukraine, and Russia.
I ask students what makes them want to come to school every day. Sports get the most votes. "Nice people, baseball, my best friend Jasmin, wrestling, football, my history class, English, soccer, basketball…"
One kid, who just transfered to Mission High three days ago, likes that Mission "doesn't have video cameras everywhere like my old school did."
Their English teacher, Mr. Scott, is dressed in a white shirt, tie, and a dark green jacket topped with a purple hat. He tells students in a congested, raspy voice that he is recovering from "something between a cold and an pneumonia." Meg Day, a resident artist from the local WritersCorps chapter, is here to help him lead the class in some writing exercises while he recovers. Day, who has an MFA in poetry from Mills College, writes down these rules on the whiteboard:
"There are no wrong answers."
"The standard is yourself."
"Don't talk, don't stop."
Day warms up the students with two "freewrites." Today's freewrite prompt is "When I grow up…" "Go!" she prompts the students. "Five minutes. Don't talk, don't stop." She claps her hands. The sound of pencil scribbling fills the room.
Meanwhile, Scott shows us the "student portfolio" of a girl I'll call Tina. Tina's thick, black binder is filled with essays, drawings, poems, and research papers. On the portfolio's first page, Scott has written the question: "Tell me one thing you want me to know about you?" Tina's written response: "I hope Harvard will accept me one day." But in today's test-driven education system, are these portfolios really likely to contribute to that goal's achievement?
Maybe. Scott believes these student portfolios provide crucial outlets for creativity and critical thought. Many students at Mission High have learning disabilities, or are still learning English: For those students who also don't test well, portfolio work can boost confidence and provide useful writing practice.
Both Scott and Principal Eric Guthertz credit these creative outlets in part for improved test scores—and they're not alone. Since the '90s, a growing number of educators have advocated portfolios as a way to add creativity and critical thinking to test drilling routines. Think that's fluffy? Some experts give US schools a 'D' at best on encouraging creativity in the classrooms, and they don't worry about it from "save the arts" perspective–creativity also fuels capitalism from inventions like the iphone to hybrid cars.
Today's freewrites will become part of each student's portfolio, and possibly displayed at the end of the year in an exhibit open to parents and students. Most seniors also post art portfolios online.
"Who wants to read their freewrite aloud?" Day asks. Five hands go up.
"I want to make a difference in Sudan and Eritrea, but I don't know how," reads a young man who said earlier that he was born in Korea. "Maybe I'll become a UN ambassador or a lawyer some day."
"I don't want to die inside when I grow up," reads a girl in tight jeans. "Marriage is a bad idea," she adds.
Scott pulls out a box of healthy mini crisps and throws them to students around the class.
As students munch on crisps, Day reads aloud a poem by Ntozake Shange. "What is she saying, and how is she really feeling?" Day probes. She guides students into definitions of voice, specificity in writing, and subtext.
Some students respond; some trail off into conversations. Day walks around the room constantly, asking questions, laughing at students' jokes. At the end of the class, she asks students to write one line for a "collective poem" that she will exhibit at the end of this semester on a school wall.
What's Tina's favorite part of her portfolio? "My reflections on the Desiderata poem," she tells me shyly after class, pressing the black binder into her chest.
Want to take a quick tour of Mission High School? Click here to meet Mission High student Carlos and security guard Joe Alberty.