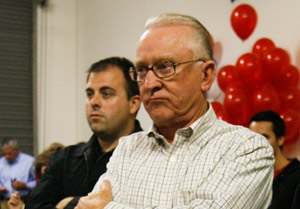 Fight disinformation:
Sign up
for the free
Mother Jones Daily
newsletter and follow the news that matters.
When Rep. Howard "Buck" McKeon (R-Calif.) takes command of the powerful House Armed Services Committee in January, he will become the tip of the spear when it comes to advancing the GOP's defense agenda. What will this agenda look like? Think a Cold War on Terror.
A proponent of that conservative '80s-era maxim "peace through power" and an advocate of detaining terror suspects indefinitely without charge or trial, McKeon recently offered a preview of his committee leadership at a Foreign Policy Initiative symposium. There, he lashed out at the Obama administration's strategy of engagement with countries like Syria and North Korea ("which translated to weakness," he said) and reserved particular scorn for advocates of cutting defense spending—which, he warned, is just the first step toward ceding global ascendancy to China. "When you cut back, when you show weakness, that's when you're exposed and that's when you get into wars," he said. With that kind of rhetoric, McKeon may help lead his party back to future in the defense policy department—and go to war with the Pentagon and the GOP's tea party contingent in the process.
McKeon's views on such issues as Don't Ask, Don't Tell (he's against its repeal) and defense spending put him directly at odds with Defense Secretary Robert Gates. He has described Gates' thinking on defense reform as "shortsighted and the wrong path," arguing that the US should spend whatever it takes to prevail in Iraq and Afghanistan, while simultaneously investing to prepare for future wars. "The word 'tradeoff' hasn't really been in McKeon's vocabulary," observes the Center for a New American Security's Travis Sharp.
The differing philosophies of McKeon and Gates on defense spending are likely to produce some confrontational hearings. Sharp also predicts that the California lawmaker will attempt to make an issue of the Obama administration's plans for a gradual pullout from Afghanistan by hauling top commanders before the committee to testify about the wisdom of setting a date to begin withdrawing troops. McKeon, for his part, has said that a deadline undermines US efforts in the eyes of its NATO allies and Afghans, and gives the Taliban every reason to sit tight and pounce when the time is right.
McKeon's defense spending zeal is no surprise. Since his election in 1992, the defense and aerospace industries have practically bankrolled his political career. And over the years, he's returned the favor, directing millions in pork-barrel projects to defense contractors like Lockheed Martin and Boeing.
But McKeon's military spending generosity doesn't always extend to veterans. Back in October, the Iraq and Afghanistan Veterans of America released a report card evaluating lawmakers on their performance on veteran's issues. McKeon received a C. "This isn't saying Buck McKeon is a jerk or anything," says Tom Tarantino, the group's senior legislative aide. "This is his record."
Veterans aren't the only ones who may find something left to be desired in McKeon. His robust military spending agenda could put him on a collision course with tea party elements within his caucus. Particularly in the Senate, tea party freshmen like Rand Paul (R-Ky.) and Mark Kirk (R-Ill.) have signaled that defense spending is no sacred cow. And in later November, FreedomWorks, a major tea party backer, and other conservative groups sent a letter to the GOP's House and Senate leaders urging defense spending cuts.
While McKeon's views may not endear him to tea partiers or defense reformers, they are in lockstep with the neoconservative defense establishment, which claims that giving ground on defense will lead to America's inevitable decline. For them, spending cuts illustrate what they see as Obama and the Democrats' stealth attack on the philosophy of "American exceptionalism." But it's not just the Bill Kristols of the world touting that line. Last week, the Washington Post's Karen Tumulty noted that Republican presidential hopefuls like Mitt Romney (R-Mass.), Mike Pence (R-Ind.), and Sarah Palin (R-Alaska) are increasingly denouncing the Obama administration in similar terms. McKeon's Cold War-type strongman posturing seems to fold right in with this view.
It will be up to the Democratic members of the Armed Services Committee to temper—and in some cases, counter—McKeon's agenda. Already, some committee Democrats are alarmed by his desire to throw ever more money at the Pentagon. The withdrawal of combat troops from Iraq and the gradual pullout from Afghanistan present big opportunities to cut spending, argues committee member Rep. Loretta Sanchez (D-Calif.). "What are you going to spend [more money] on?" she asks. "Are you going to put us in a third war?"
Where McKeon is likely to really tangle with Democrats is over detainee policy, an area where he reserves his harshest criticisms of the Obama administration. He has attacked the administration's decisions to mirandize terror suspects and try them on American soil as "arguably the greatest example of failed leadership in national security." And he's vowed to push a new detainee policy that keeps the detention facility at Guantanamo Bay open indefinitely. In March, he introduced legislation that would allow anyone—US citizen or foreign national—deemed a terrorist suspect to be detained without criminal charges and without trial "for the duration of hostilities against the United States." This would effectively turn Bush-era legal abuses into law.
The Brookings Institution's Ben Wittes, an expert on the legal framework of the wars in Iraq and Afghanistan, says that McKeon's approach is exactly the wrong way to attack the thorny detainee issue—and one that's sure to provoke a confrontation with the Obama administration. "The bill is fundamentally unhelpful to everything the administration wants to do," he says. "And, by the way, it's fundamentally unhelpful to most of what the last administration wanted to do, too."
With the Democrats maintaining control of the White House and Senate, McKeon will soon be arguably the most influential Republican on national security issues. And, CNAS' Sharp points out, he will hold outsized sway over the GOP's defense posture heading into the 2012 election. "All of the party's efforts to define what the Republican brand will mean for national security will be routed through McKeon," he says. "The good, the bad, the ugly—it's all going through McKeon."