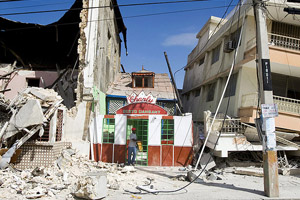 Fight disinformation:
Sign up
for the free
Mother Jones Daily
newsletter and follow the news that matters.
I hadn't even landed to begin my new assignment before someone started crying.
"Are you excited?" I ventured to the woman weeping next to me on the plane from Miami to Port-au-Prince yesterday, because I honestly couldn't read her emotion, and because it seemed more polite than asking if she's freaking the fuck out because large parts of her home country are still, eight months after the quake of the ages, a planless pile of displacement and epidemic rape.
"It is not a good sensation," she said, and when I asked how come, she shook her head and waved her hand at me, because then she was crying too hard to talk. She's just here to get her papers in order, she told me eventually, for her new, post-quake permanent residency in Florida, where she's been chronically unemployed despite attempts to find work as a nutritionist.
You can't walk very far out of the airport without coming up to one of the almost 1,500 camps holding more than a million displaced people. Side-to-side-to-side sheets of plastic erected low in the sweltering heat, littered paths in the narrow dirt between rows. These would be the parts with the rape and very dubious future, where the poorest Haitians have ended up. Total physical insecurity, food and water insecurity to boot. No end in sight.
But outside, right around the edges, things are bustling. While we inch through traffic, past packed street stalls, my 27-year-old taxi driver, Charles, explains that this is as good a time as any to go into business. He comes from a middle-class family. He is going to become upper-class. On our 45-minute drive, there are stores in the buildings that are still standing; people everywhere skirt the rubble. Haiti looks different, Charles tells me, and there's still a lot of damage to the buildings, but things are essentially the same. There has always been a class of Haitians too poor to know what they're going to eat the next day. Politicians were wildly corrupt and didn't do right by the people before the quake, and that's not going to change after the November elections, so the earthquake hasn't made much difference for people who want to try to make their way in the country.
"Oh," Charles says when two tiny kids press themselves against my window to beg for money at a traffic stop. "My heart is breaking."
"This is heartbreaking too, hey?" I say, gesturing at a displacement camp a moment later. We pass one about every 15 seconds.
He shrugs. Meh.
"Have you ever been in one of these? To see what it's like?"
God no.
"It's horrible," a middle-aged radiologist hanging out at my hotel bar later that night says of the conditions, nodding in the direction of the camp just across the street. "It's horrible," he says again, then trails off, because no amount of drunken volubility allows him to describe how horrible it is. He is wealthy and white, and his house withstood the quake, but for fear that an aftershock would bring it down on top of him he decided to sleep in a tent in his mother's front yard for several months afterward. He had to get up early because it's insufferably hot as soon as the sun comes up, and the rain brings with it a whole other host of nightmares. "When I came out into the streets after the earthquake, everywhere there were just driverless cars, corpses, and people screaming from under the rubble. When the very ground beneath your feet betrays you? The last major earthquake in Haiti was before the United States was even a country. We are used to only two threats here: fire and hurricanes. So we build everything out of cement. And then when it collapses… "
But: "C'est la vie." The men at the bar commend me for my concerns about media mutterings that there needs to be a plan for weaning displaced Haitians off aid, implying that they're drowning in it, when in fact people are hungry enough to trade sex for food-aid cards. But I mustn't neglect the other Haiti: Do not miss a chance to go to the beautiful beach, they say. I must go to the port city of Jacmel while I'm here, not to see a clinic project but for a nice lunch and some drinks. The radiologist wants to helpfully direct me around his country because he's glad when journalists come. It's important for maintaining their political process.
Speaking of politics: Years ago, he announces at some point in the evening, there were only two mosques in Haiti. Now there are 41. Eyes go wide, head-shaking and murmurs of "I didn't know that." Sentences that start with "I don't have anything against Muslims, but…" "If you want to come to my house as my friend, you are welcome, but if you come to my house as a Muslim who wants to convert people to Islam, stay away." Et cetera.
And to think some of my friends were worried I was going to get culture shock.
Help fund Mac's Haiti trip—without spending a dime of your own money. Just visit spot.us to earn $10 in pitch credit and donate it to Mac's reporting.