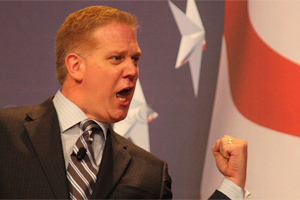 Fight disinformation:
Sign up
for the free
Mother Jones Daily
newsletter and follow the news that matters.
In preparation for Glenn Beck's "Restoring Honor" rally this Saturday, the liberal watchdog group Media Matters has put out a compendium of the Fox News demigod's greatest racist hits. He says the rally is supposed to honor Americans in uniform, as well as those who "embody our nation's founding principles of integrity, truth and honor" (like everything else Beck-driven, though, it's all about him). But the event has drawn controversy because it falls on the 47th anniversary of Martin Luther King Jr.'s "I Have a Dream" speech. Though Beck writes the timing off as mere coincidence, he's also spoken of the rally as an opportunity for his followers to "reclaim the civil rights movement." Then there's the fact that Beck will be addressing his 9/12 faithful from the steps of the Lincoln Memorial, where King delivered his speech. Surely that's a coincidence, too. Democratic strategists are poised to use the event and any racist tea partiers it draws out to further turn moderates against the GOP, Greg Sargent notes, writing that "the sight of Beck trying to coopt the legacy of King while crazed Tea Partyers bash the first African American president in the ugliest of terms may well go down as an iconic moment in the history of this movement." If conservative activists follow Beck's lead, the rally will be quite the race-tinged spectacle indeed. Courtesy of Media Matters, a sampling of Beck's charged rhetoric:
Beck suggested Obama's name is un-American. On the February 4 edition of The Glenn Beck Program, Beck said of Obama: "He chose to use his name, Barack, for a reason. To identify, not with America — you don't take the name Barack to identify with America. You take the name Barack to identify with what? Your heritage? The heritage, maybe, of your father in Kenya, who is a radical?"
Economic stimulus package. "It is the nanny state. They're going to tell us what we can eat. They can tell us what our temperature needs to be in our homes. They can tell us what kind of car to drive. They can tell businesses how to run their business. It's slavery. It is slavery."
Everything Obama does. "Everything that is getting pushed through Congress, including this health care bill, are transforming America. And they are all driven by President Obama's thinking on one idea: reparations. … These massive programs are Obama brand reparations — or in presidential speak, leveling out the playing field. But, just in case the universalness of the program doesn't somehow or another quench his reparation appetite, he is making sure to do his part to pay the debt in the other areas." [Glenn Beck, 7/23/09]
Beck's "funny 'black guy' character." Journalist Alexander Zaitchik wrote in his September 2009 profile of Beck for Salon.com that Beck, as a younger man, had many "racial hang-ups." According to Zaitchik: "Among the show's regular characters was Beck's zoo alter ego, Clydie Clyde. But Clyde was just one of Beck's unseen radio ventriloquist dolls. 'He was amazing to watch when he was doing his cast of voices,' remembers Kathi Lincoln, Beck's former newsreader. 'Sometimes he'd prerecord different voices and talk back to the tape, or turn his head side to side while speaking them live on the air. He used to do a funny "black guy" character, really over-the-top.' "
Beck says that his rally "is going to be a moment that you'll never be able to paint people as haters, racists." Forgive us if we don't take his word on that.