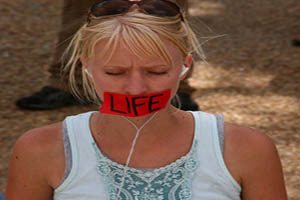 More than 1,000 members of the public tramped through the Senate Judiciary Committee hearing room last week to catch a glimpse of the confirmation hearings for Supreme Court nominee Elena Kagan. Strangely, not a single one of them leapt up to scream "Babykiller!" at her. The hearings, which finished late Thursday night, were a remarkably sedate affair. Throughout Kagan's entire time in the hot-seat, I kept scanning the crowd to see which, if any, of the visitors might be an anti-abortion protester in disguise. But by Wednesday night, it was clear that Kagan was going to survive three days of hearings without suffering that particular rite of passage.
The silence of the anti-abortion protesters was weird. During Justice Sonia Sotomayor's confirmation hearings last year, protesters gave the proceedings their only element of surprise. At least five people were detained for yelling "murder" and other slogans about the "unborn" at Sotomayor. Even Norma McCorvey, the "Roe" of Roe v. Wade got herself arrested during the event. It's curious that none of these people came to torment Kagan, for whom abortion was—and will continue to be—a much bigger issue than it ever was for Sotomayor.
During her entire 20 years on the federal bench, Sotomayor handled only a single abortion case. In it, she actually sided with the very same kind of people who disrupted her confirmation hearing.
Kagan, on the other hand, was actively involved in the Clinton administration's political machinations over the partial-birth abortion ban legislation, which Clinton vetoed for a second time in 1997. But even that work wasn't enough to drive the "unborn" lobby into civil disobedience mode.
It's possible that because Kagan is replacing one of the court's most liberal justices, and thus won't be really tilting the balance of the court, her nomination simply has lower stakes for the right-to-life movement. But there may be other factors involved as well. Matthew Faraci, vice president for communications of Americans United for Life, which doesn't engage in public protests, posits that protesters didn't get organized for the Kagan hearings because the main abortion bombshell about Kagan didn't make news until the second day of the hearing. That's when Shannen Coffin posted a story in the National Review Online that ramped up the abortion politics significantly. According to Coffin, Kagan's time in the Clinton administration showed that she was willing "to manipulate medical science to fit the Democratic Party's political agenda on the hot-button issue of abortion."
Coffin is probably better known as Vice President Dick Cheney's general counsel, a job he secured after successfully defending Cheney's secret energy task force. But he also served as deputy attorney general during the Bush administration charged with defending the partial-birth abortion ban that finally passed in 2003. Citing documents released by the Clinton Library, Coffin claimed that when Kagan was working in the Clinton administration domestic policy shop, she persuaded the American College of Ob/Gyns to alter the language it used in a statement on the merits of the partial-birth abortion procedure to support the political fight against the ban. Apparently, in an early statement on the procedure, ACOG had said that most of the time, the partial-birth abortion wasn't essential to preserving the health of a woman. The statement didn't include any qualifying language suggesting that there may be times where the procedure is appropriate.
Coffin quoted Kagan's memo in which she wrote that ACOG's original statement on partial-birth abortion "would be a disaster," presumably referring to the impact the medical opinion might have on any attempts to strike down a ban. Coffin then accused Kagan of having meddled with the ACOG expert statement. He says memos in the archives show Kagan encouraging the group to amend its official statement in a way that would most benefit opponents of any partial-birth ban. Coffin claimed that the ACOG language made it extremely difficult for his office to defend the partial birth ban that did finally pass Congress, largely because the courts repeatedly deferred to the medical expertise of ACOG.
In terms of abortion politics, it was a pretty big deal, and one that seems like it would have sent more folks than just Randall Terry to protest at the Capitol. But the ACOG bomb didn't drop until late the second day of the hearings, giving anti-abortion activists less time to organize for the event. Nonetheless, Republican senators did manage to ask Kagan about the memos and her involvement with ACOG, and they weren't happy with what they heard. Kagan said she had written the memos to aid President Clinton and to help ACOG clarify what it had already been saying in meetings with the White House. Sen. Jeff Sessions (R-Ala.) all but accused Kagan of lying to the committee, and criticized her for trying to politicize science.
On Friday, Sen. Orrin Hatch, who supported Kagan's nomination for Solicitor General, publicly announced that he would not vote to confirm her for the Supreme Court based in part on her "extreme position on abortion." And while the confirmation hearings are now finished, Faraci predicts that the abortion controversy is only going to gather steam next week as the Senate moves towards voting on Kagan's nomination. Will it be enough to derail her confirmation? Probably not, as even the Republicans acknowledge. But who knows? Conservative interest groups, particularly those who really care about abortion, have already starting calling for a filibuster, something Sen. Tom Coburn (R-Okla.) said Thursday he wouldn't rule out.