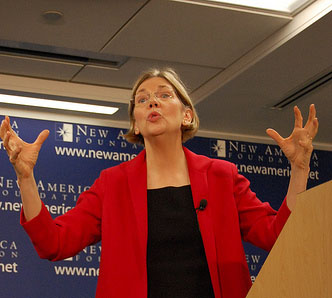 Let our journalists help you make sense of the noise: Subscribe to the
Mother Jones Daily
newsletter and get a recap of news that matters.
Elizabeth Warren, the bailout watchdog and consumer advocate, has earned a reputation as a defender of the American family, the middle and working classes, the little guy. If appointed to lead the new Bureau of Consumer Financial Protection, the creation of which was her idea, Warren would have the power to crack down on the type of abuses that hurt regular citizens, led to the subprime mortgage crisis and economic meltdown, and bled more than $7 trillion in household wealth out of average Americans. But do the banks that say they serve average Americans, especially in the US heartland, want Warren in charge of this bureau? The answer, according to the heads of multiple state banking associations, is a resounding "no."
While these industry reps are quick to tout Warren's intelligence and tough reputation, they're not keen on her bringing her no-nonsense style to bear on the community banks in their respective states. Top officials from industry associations in states like Nebraska, Iowa, and Oklahoma say she simply doesn't understand how small, community banks do business or misjudges how the bureau's actions could unfairly restrict these banks' ability to lend to customers. Nor does she grasp, they claim, the harmful impact the bureau and the Dodd-Frank financial reform bill as a whole could have on community banks, which comprise 97 percent of all banks (pdf) in the US. (Warren declined to comment.)
Visiting Washington this week for the American Bankers Association's annual "leadership" meeting, these banking association chiefs preemptively lobbied their congressional representatives to oppose a potential Warren nomination—a position some say is shared by the banking community at large. "With my colleagues at the ABA, these views about her would be shared," says George Beattie, the Nebraska Bankers Association's president and CEO.
Warren's candidacy to the lead the new bureau is the latest controversy surrounding the financial reform bill, passed by Congress last week and signed into law on Wednesday by President Obama. A recent Huffington Post story kicked off the conflict by reporting that Treasury Secretary Timothy Geithner opposed a potential Warren nomination. (The Treasury Department quickly responded by saying that Geithner believes she is "exceptionally well qualified to lead the new bureau," conspicuously avoiding the matter of whether or not he supported her for the job.) Nonetheless, that revelation, as well as doubts voiced by Sen. Chris Dodd (D-Conn.) on whether the Senate would approve Warren, prompted progressive groups to spring into action and demand that President Obama nominate her. Warren also has considerable backing in the House: A letter by Rep. Carolyn Maloney (D-NY) backing Warren for BCFP head had more than 40 co-signers as of Wednesday, including Rep. Barney Frank (D-Mass.), chairman of the powerful financial services committee. "Warren is the best person to be at the helm as the new Bureau gets up and running," Maloney's letter reads.
Beattie, of the Nebraska Bankers Association, begs to differ with Warren's supporters. He points to an October 2009 conference call with Warren and about 20 or 30 bankers from around the country as the point when he realized Warren didn't fully comprehend small banks' concerns with a federal-level consumer protection agency. "She basically told us not to worry, that she knew what our concerns were." Coming away from the call, Beattie felt the opposite. "We just didn't think she understands how community banks work," he recalls. (A national community bank group, the Independent Community Bankers of America, which lobbied hard to exempt local banks from the bureau's oversight, declined to comment on Warren's nomination but said the group "looks forward to working with whomever the president chooses.")
One of Beattie's main concerns is that the bureau will force small banks to abide by rigid rules and guidance from the federal level—a development, he says, that may fit megabanks clustered on Wall Street but not local and regional ones. That, Beattie says, could seriously limit what a smaller bank can offer its clients in the way of customized products—in other words, limiting the amount of credit available to customers, a common industry criticism of the bureau. Small banks thrive because they're nimble and flexible, Beattie says—and he fears those traits could soon disappear with this new regulator. "Our concern is that the bureau and Warren are going to standardize those products and limit what our banks can do," he says. "I think there's clearly a disconnect between her and bankers around the country."
And he, and other banking industry reps, have been letting members of Congress know about it. Beattie says he's had "a number of conversations" with Sen. Ben Nelson (D-Neb.), a centrist who almost didn't vote for the financial reform bill earlier this month and consistently blocked earlier iterations of the legislation. More recently, Nelson told reporters he had concerns about the power and reach of the BCFP and the person chosen to lead it. In his talks with Nelson, Nebraska's senior senator, "we've expressed our concerns of having Warren being in control of the agency," Beattie says.
Another top state banking official lobbying against Warren is Roger Beverage, president and CEO of the Oklahoma Bankers Association. Despite describing the Oklahoma-raised Warren as "exceptionally brilliant," Beverage says she "has a different view of the world than what reality shows for community banks."
By way of example, Beverage points to overdraft protection, when a bank covers the cost of a purchase after a consumer spends more than she has in her bank account. This practice has been heavily criticized for essentially being a form of legal loan sharking, charging exorbitant fees to consumers (think the hundreds of dollars) to cover the cost of, say, a cappuccino. Although the Federal Reserve recently enacted tough new rules on overdraft—banning mandatory overdraft protection, for instance—Beverage fears the new agency could further crack down on the service, limiting options for those who do want this service. "The reality is that some people use overdraft protection as part of their financial planning," he says. "If you talk to community bankers, [they'll say] probably 10 to 15 percent of their customers use that service." He adds, "In some cases, the people they're trying to help are going to get screwed."
From a banker's perspective, Beverage says, appointing the strong-willed Warren to lead the BCFP would open the door for the creation of an unnecessarily big new financial regulator. "She will build that agency in her image," he says, "and that's probably what scares bankers most."
While on Capitol Hill Tuesday, Beverage says he met with members of the Oklahoma delegation and talked about the bureau, who should lead it, as well as the effects of the Dodd-Frank financial bill as a whole. Beverage says he'd prefer someone like Elizabeth "Betsy" Duke, a lifelong banker, former head of the American Bankers Association, industry favorite, and now a Federal Reserve board member (nominated by George W. Bush) to lead the Bureau. As for Warren, Beverage says he told Washington lawmakers "how much respect we have for her. We'd just like to see her take a different job."
Read New York congresswoman Carolyn Maloney's letter backing Elizabeth Warren to lead the new Consumer Financial Protection Bureau: