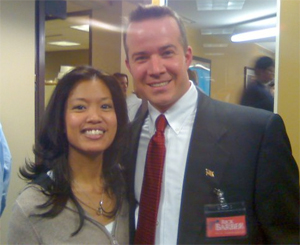 Let our journalists help you make sense of the noise: Subscribe to the
Mother Jones Daily
newsletter and get a recap of news that matters.
Not content to rest on his laurels, tea partier Rick Barber decided he could make a TV commercial far, far worse than his first "Worst Tea Party Ad of All Time." The long-shot candidate for Alabama's 2nd congressional district is still jammin' with the founding fathers, but this time, there's a twist: Abe Lincoln is there to confirm Barber's hunch that paying taxes is "….Ssssslavery!" Before you get a chance to let that sink in, a montage cues up: MTV-style rough cuts between shots of black slaves, Jewish concentration camp prisoners, and the front gates of Auschwitz—you know, the ones that say, "Arbeit Macht Frei."
This, after a long and winding explication of whiskey regulations with the ghost of George Washington, wherein Barber draws a distinction between the first president's "legitimate" whiskey excise tax and "this tyrannical health care bill." Ur-Washington nods agreement across a table replete with the prop gun, Bible, and Gadsden "Don't Tread on Me" flag. (Takeaway: Taxes are good when they finance military revolutions, but bad when they pay for social ones. FACT CHECK! Can somebody get me the ghost of Daniel Boorstin or Arthur Schlesinger?)
Also, watch the background of the video closely, and you'll also see Dale Peterson, this guy in his cowboy hat, with his lever-action rifle slung on a shoulder. Did you know he lost his primary for Alabama agricultural commissioner? Pity. Hope the gun's not loaded.
At this point, you may well wonder: How come all of that has happened, and there's still two and a half minutes left to the commercial? Because that's almost how long it takes an ostensible Barber supporter in the background to sing every stanza of the national anthem, including those ones you know exist but have lyrics you'll never remember. Lyrics like: "Then conquer we must, when our cause it is just," with superimposed video of Marines shooting and being shot on the Pacific islands in the Second World War. The entire hymn to our flag is sung to a montage of martial imagery: jihadis, tombs of unknowns, Civil War statuary, the Iwo Jima flag.
What can possibly follow this sweet solemnity, on the last 20 seconds of the ad? I'll spot you three guesses, because none of them will be right: Rick Barber belittling the theatrics of Glenn Beck.
Conservative pot, meet conservative kettle. Play nice.