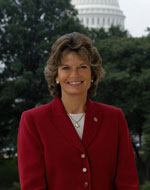 Fight disinformation:
Sign up
for the free
Mother Jones Daily
newsletter and follow the news that matters.
Thursday is D-Day for a play by Alaska Republican Sen. Lisa Murkowski to kneecap the Environmental Protection Agency's power to curb carbon dioxide emissions. Murkowski's measure has the support of at least four Democrats, which has many environmental advocates on edge.
Murkowski has been threatening this gambit since January, shortly after the EPA finalized its conclusion that greenhouse gases endanger human health. That finding, which came in response to a 2007 Supreme Court decision, compels the agency to regulate such pollutants under the Clean Air Act.
The senator is using what's called a resolution of disapproval, an obscure procedural tool that enables Congress to overturn regulations set by the executive branch. Because a resolution of disapproval requires only 51 votes to pass and is not susceptible to a filibuster, Murkowski's move presents a sizeable threat. So far, she has 40 co-sponsors, including three Democrats: Sens. Blanche Lincoln of Arkansas, Ben Nelson of Nebraska, and Mary Landrieu of Louisiana. Democratic Sen. Jay Rockefeller of West Virginia, who previously offered a bill that would have delayed EPA regulations for two years, said on Tuesday night that he'll vote for Murkowski's bill. Sen. Jim Webb of Virginia has also expressed support for her effort. Several other coal-state Democrats, like Sens. Byron Dorgan and Kent Conrad of North Dakota, Tim Johnson of South Dakota and Claire McCaskill of Missouri, have remained studiously quiet on Murkowski's bill, though they cosponsored Rockefeller's proposal.
Majority Leader Harry Reid's office has gone on the offensive against Murkowski and her Republican supporters. Reid's spokesman, Jim Manley, calling the measure a "giveaway to big oil companies" in a statement Tuesday. But Reid's office hasn't mentioned the measure's Democratic backers.
Most key players in the climate debate agree that using the Clean Air Act to cut down carbon emissions is far from ideal—environmentalists, the Obama administration, even James Inhofe (R-Okla.), the Senate's leading climate change denier. The Obama administration has said repeatedly that it would prefer Congress pass new legislation specifically to deal with global warming. But so far, the Senate hasn't done that (and its prospects for doing so anytime soon look grim.) And regardless of what Congress does, thanks to Supreme Court's decision and the science on global warming, the EPA is required by law to move forward with regulations.
If successful, Murkowski's resolution of disapproval would remove the only legal weapon the Obama administration has to cut carbon emissions should climate legislation fail this year. Right now, the fate of a climate bill remains in doubt, making the regulatory options even more important.
Murkowski says she's not trying to second-guess climate scientists. "This is not a resolution that in anyway pulls out the underpinnings of the science," she insisted in a press conference Tuesday. Instead, she says her goal is to "make … a statement as to whether Congress or unelected bureaucrats at the EPA should create climate policy." But while Murkowski occasionally talks a good game on climate, attesting that her state is "ground zero" for the impact of global warming, she has consistently rejected measures that would actually seek to address it.
It doesn't help her case that the press conference she called on the measure Tuesday featured some of the Senate's all-stars of climate denial. There was Inhofe, who reaffirmed his belief that global warming is the "greatest hoax ever perpetrated on the American people." There was Sen. Kit Bond of Missouri, who noted that, "Without carbon, my trees would die. Carbon occurs naturally." And there was Sen. Mike Enzi of Wyoming, whose contribution was, "People are breathing out CO2 all the time. Would that be a violation of the Clean Air Act under this law?"
Murkowski's spokesman, Robert Dillon, argued that these kinds of remarks didn't undermine Murkowski's mission. "It's a big tent," he said. "I think the economic impacts is the major, overreaching theme here. Every senator is entitled to his own opinion, that's fine." He also downplayed the complaints from automakers that the resolution would cause the "collapse" of the deal they worked out last year with the administration and state governments to set new, national fuel economy and emission standards. Despite automakers' repeated pleas for a single national standard, Dillon argued that they were "forced to the table" and that the fuel economy standards should be left to the Department of Transportation.
The White House issued a statement on Tuesday vowing to veto the measure should it pass both chambers, adding that it would "undermine the Clean Air Act and hinder EPA's ability to comply with a Supreme Court ruling on greenhouse gasses."
But the big question is why Democrats would want to lend support to Murkowski's effort to thwart the EPA—and at a time when moving to protect the environment might be less politically risky than usual. How many will jump ship? We'll find out Thursday.