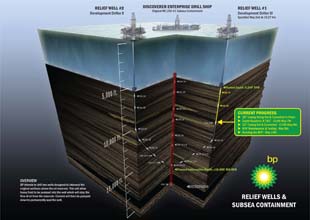 With the Gulf spill now one month in, some lawmakers and environmentalists are starting to question why BP is still in charge of the containment and clean-up effort. The company's attempts to cut off the spill have failed. The chemicals BP is spreading in the Gulf might be creating entirely new problems. And independent estimates of the spill indicate that the company is grossly underestimating the size of the disaster.
So why is BP still running the show? The government has launched an unprecedented response. But when it comes to crucial issues of control and decision-making, it seems like the oil giant is still in the driver's seat.
Let's start with the size of the spill. Outside estimates have put the volume as high as 4 million gallons of oil per day, based on analysis of video that BP finally released in the past week. Video released Tuesday only added to those concerns. But BP has only been releasing a limited amount of footage, at the demand of Congress. (BP American president Lamar McKay told a House panel on Wednesday that the higher number is "theoretically possible," but said he doesn't "think anyone who's been working on this thinks it's that high.") The Coast Guard and the National Oceanic and Atmospheric Administration, meanwhile, are still using the 5,000-barrel-per-day figure.
Rep. Ed Markey, chair of the House Select Committee for Energy Independence and Global Warming, has called on the Coast Guard to force BP to relinquish control over the spill site. Markey has also pushed BP to post a live-streaming video of the spill that outside experts and the public can view, which the company consented to Wednesday evening.
"BP thinks this is their ocean, so they should be able to control the information," Markey said during a congressional briefing on the spill. "It's BP's spill, but it's America's ocean."
He told reporters Wednesday, "BP should not be allowed to decide as a result who is allowed to participate in the effort to first determine how large it is, but also what the dispersants are that are used, etc."
Steven Wereley, an associate professor of mechanical engineering at Perdue University, told the House Energy and Commerce Committee that by his calculations on last week's video, the spill appears to be closer to 72,000 barrels per day–or more than 3 million gallons. He also analyzed a second, smaller leak shown in new video, which he believes alone may be leaking 25,000 gallons, he told House members Wednesday. But in order to get a more accurate reading, higher-quality, uncompressed video is necessary, as are longer clips of the spill. While pinning down an exact figure is difficult, one thing is clear: "All outsider estimates are considerably higher than BP's," he said, adding later that the size of the spill is "fully an order of magnitude higher than what BP projects, without question."
Richard Camilli, an associate scientist specializing in applied ocean physics and engineering at Woods Hole Oceanographic Institution, testified that BP had invited him, along with a team of scientists, to analyze the spill using advanced techiques. But BP quickly changed its mind the next day, May 6, and uninvited the team. He was told it was because the containment dome had been finished ahead of schedule and their services were no longer needed (we now know that dome failed to work). "I've had no contact with BP since May 6," said Camilli.
The spill volume is crucial for planning the containment and clean-up efforts. It's also critical in determining the amount of dispersant that should be used and anticipating the short- and long-term effects of both the dispersants and the oil on marine ecosystems.
Frank Muller-Karger, a professor of biological oceanography and remote sensing at the University of South Florida, called the current operation an "experiment in nature we have never done." The dispersants seem to be helping keep a significant portion of the oil below the surface, but the understanding of long-term environmental impact is still lacking. There's also concern about how far the dispersed oil may travel and where it may accumulate. (On Wednesday night, the EPA apparently stepped in and demanded that BP find less-toxic disperant options, after environmentalists and scientists raised concerns about the impact they might have on the Gulf.)
Department of Interior Secretary Ken Salazar told a Senate panel on Tuesday that a government task force has been assigned to determine the real size of the spill. "These efforts are extensive," said Salazar. "The conclusions will be correct."
But that hasn't eased concerns about the bigger problem, which is why BP still seems to be calling the shots in the Gulf. A coalition of 10 conservation groups wrote to President Obama Wednesday calling on the federal government to take charge of the Gulf efforts. "The federal government should immediately take over all environmental monitoring, testing, and public safety protection from BP," said Larry Schweiger, president of the National Wildlife Federation on Wednesday. "Too much information is now in the hands of BP's many lawyers and too little is being disclosed to the public."