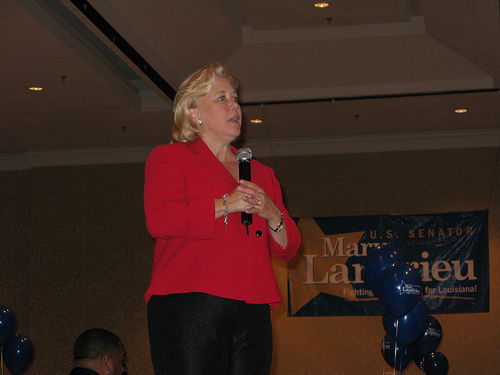 Tomorrow, the Senate Energy and Natural Resources Committee will hold the first of several hearings this week on the BP oil spill. And you can expect fireworks on the subject in the committee, which includes both staunch offshore drilling opponent Robert Menendez (D-NJ) and Mary Landrieu (D-La.), who has remained a stalwart defender of the oil industry even as the Gulf spill encroaches upon her state.
The offshore drilling debate only portends to get more intense on Wednesday, as senators roll out a climate and energy bill. What (if anything) that bill may say about offshore drilling is likely to be among the most contentious issues for Democrats. And lest you start to think the Gulf spill has put a damper on Landrieu's support for oil drilling, here's the latest from her on that front via The Hill:
"I'm not inflexible, but facts are inflexible … And the facts are that we've drilled 1,000 wells in the Gulf, and all of them have been drilled with safety and with no disruption," she said.
"I don't believe we should shut down an industry because we had one accident, even as bad as this one is. It would be like asking if an airliner falls out of the sky, do we stop flying all planes?"
I'll be live-tweeting from the hearing tomorrow, which you can follow here.