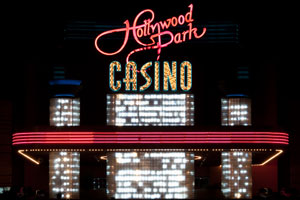 Fight disinformation:
Sign up
for the free
Mother Jones Daily
newsletter and follow the news that matters.
When Big Hollywood found out about Wall Street's plans to start betting on movie box office receipts, it moved quickly to get Congress to put the kibosh on so-called "movie futures." Last month, the big studios' main lobby, the Motion Picture Association of America (MPAA), flexed its Capitol Hill muscle, ensuring that a provision was added to Sen. Blanche Lincoln's (D-Ark.) Wall Street reform bill outlawing movie futures.
Tinseltown's opposition to the plan was nearly unanimous. The Independent Film and Television Association opposed it. So did many entertainment industry unions. Hollywood worried that movie futures markets would be vulnerable to manipulation and fretted that falling futures prices could reduce audiences for some films.
Only one major studio didn't seem concerned. Lionsgate, which distributed Kick-Ass and all of the Saw movies, thought two companies' plans to launch box office futures markets seemed just peachy. During a congressional hearing on the issue in April, executives for the two firms—Cantor Fitzgerald and Media Derivatives, Inc.—pointed to a letter of support from Lionsgate vice chairman Michael Burns as proof that their proposals had merit.
But Burns has a very personal reason to support trading in movie futures: he came up with the plan in the first place. In the 1990s, while he was a trader at Shearson Lehman Brothers, Burns co-founded the Hollywood Stock Exchange, a fake-money website where players can bet on box office results. He always wanted to turn it into a real-money trading platform. (UPDATE: In a column in Monday's New York Times, Reuters blogger Felix Salmon also highlighted Lionsgate's support for movie futures. But he didn't mention the Burns connection.)
After Burns and his partner burned through HSX's venture capital, they were forced to sell the company to Cantor Fitzgerald, which also planned to convert it into a real-money exchange. September 11, 2001—when the firm lost two-thirds of its employees—intervened, and the plans were postponed. But Cantor still wanted to create a real-money HSX, and in 2008, it applied for regulatory clearance to do so.
When I asked the MPAA about Burns' connections to HSX, a spokesman pointed me to a letter (PDF) the organization sent to all 100 senators at the end of April. In the letter, the studios push hard for Lincoln's ban on movie futures. In it, they point out that, "with due respect," Burns "was one of the founding investors in the Hollywood Stock Exchange, now owned by the other exchange seeking to trade movie futures." Burns' "outlier viewpoints supporting box office trading stand in stark contrast to the views of the rest of the entertainment industry," the MPAA argues. The lobbying pressure seems to be working: the Lincoln provision has so far survived the contentious process of merging her bill with the one written by Sen. Chris Dodd (D-Conn.), the banking committee chairman.
A Lionsgate source also drew a similar conclusion. "It is no coincidence that Michael Burns founded HSX, sold it (although it was essentially insolvent at the time) to Cantor-Fitzgerald, and now, on behalf of Lionsgate Entertainment, is the only Hollywood studio executive speaking out in favor of their plan," the Lionsgate source writes Mother Jones. "It's important to note that Michael is an investment banker by trade and it was always his dream to turn HSX into a live money forum so there is no way that he is not conflicted here," the source argues. "You'd think he'd be preoccupied by fending off Carl Icahn [who is trying to buy the firm] but this has been a personal($$$) passion of his for many years." (Burns did not respond to a request for comment for this story.)
Burns, incidentally, is a "longtime admirer" of Objectivist author Ayn Rand—he attended her wake when he was 22 years old and is the driving force behind Lionsgate's plans to produce a movie adaptation of Rand's Atlas Shrugged. A lone figure promoting his longtime capitalist passion? Ayn Rand would be proud.