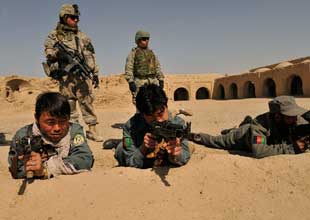 Handing out Sen. Claire McCaskill's prepared remarks Thursday afternoon as a hearing of her subcommittee on contracting oversight was about to get underway, the Missouri Democrat's press secretary warned reporters that her boss might go "off the cuff." Sure enough, after striding into the room and calling the session to order, McCaskill didn't bother consulting her notes. She stared straight ahead at the witnesses before her and launched into a freestyle assault on police training efforts in Afghanistan. "It is an unbelievably incompetent story of contracting," she said. "For 8 years we have been supposedly training the police in Afghanistan. And here's what we've done. We've flushed six billion dollars. Six billion dollars!"
If only she were exaggerating. Lt. Gen. William Caldwell, who has been in charge of training Afghanistan's security forces since November, informed Obama recently just how dire the situation is, according to a recent story co-published by Newsweek and ProPublica. "It's inconceivable, but in fact for eight years we weren't training the police," he told the president. "We just never trained them before. All we did was give them a uniform."
Gordon Heddell, the Pentagon's Inspector General, delivered a similar assessment to McCaskill's committee. "Just about everything that could go wrong here has gone wrong," he said, adding, "we have to start at the very beginning."
For this startling failure, which directly threatens the Obama administration's Afghanistan strategy and the president's timetable for beginning the withdrawal of troops, there's plenty of blame to go around. There's DynCorp, the Virginia-based contractor that has been paid more than $1.2 billion since 2003 to train the Afghan police and whose services have been found sorely wanting by government audits. There's the State Department, which was originally responsible for overseeing the police training contracts—a responsibility it failed to meet, at times having only three contracting officers on the ground. And then there's the Pentagon, which eventually took control of the program, running it through an obscure military office and an existing contract vehicle that was only open to bids from five pre-selected contractors. DynCorp wasn't one of them. The company lodged a protest, it won, and now the Afghan police training contract remains in limbo. This is bad news for the Obama adminstration and coalition forces, but it's eve worsen for members of the Afghan police, who are dying in record rates.
As it stands, DynCorp's contract has been extended until July while the Pentagon figures out its next move. David Sedney, the deputy assistant secretary of defense for Afghanistan, Pakistan, and Central Asia, told the committee that his agency will hold a "full and open competition" for the training contract but he said the Pentagon had yet to fully formulate a plan to move the bidding process forward. ("That's unacceptable," McCaskill shot back.)
Heddell lamented any delay in installing a new contractor. "If we have to wait for a new contract, we're not going to do very much… It needs to be fixed right now." He added, "I'd hate to think we have to get a new contractor on board to start training police officials to survive."
UPDATE: DynCorp weighs in on the hearing in a statement. Here's part of it:
We offer a full and expanding set of services and programs to the United States Government around the world. We don't make the policy, and we don't set the strategy. We provide the people to help the United States Government execute foreign policy and national security objectives. We earn the privilege to do this work by winning head to head competitions with other contractors. One of the key criteria for winning work is past performance and our ability to consistently win new work is directly related to performing well on the contracts we already have. We welcome competitions and believe that the taxpayer receives best value through these head to head competitions.