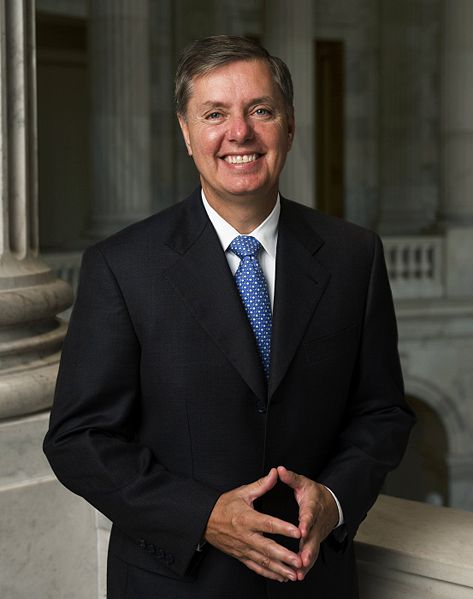 Fight disinformation:
Sign up
for the free
Mother Jones Daily
newsletter and follow the news that matters.
Last week, South Carolina Sen. Lindsey Graham appeared on Greta Van Susteren's On the Record to lambaste student loan reform as a measure that will force students to pay more for their college loans in the long run. But PolitiFact's Truth-O-Meter has deemed the Republican senator's claim totally false.
The legislation signed into law yesterday eliminates subsidies to private lenders in lieu of a federal lending program that requires participation from colleges and borrowers. The law stands to save taxpayers $61 billion over a decade, with a majority of that money going toward an expansion of the federal Pell Grant program for low-income students. But Graham told Van Susteren that average students would spend "$1,700 to $1,800 more during the life of their loan" because of a mysterious student loan "surcharge" inserted into the law.
At the heart of the surcharge issue, he also claimed, is an interest rate problem—and because of the health care bill that student loan reform was tied to, the government will now make a greater profit on student loan interest than it did before. Got that?
PolitiFact didn't. So they looked into it:
We called and e-mailed Graham's office repeatedly for sourcing on his claim, but our inquiries were unanswered. Apparently Graham's numbers come from an amendment offered by Tennessee Republican Lamar Alexander during the Senate's debate over a package of fixes. His amendment would have forced the chamber to send the bill back to committee and amend it to reduce interest rates on student loans by 1.5 percent, from 6.8 percent to 5.3 percent. That interest rate reduction would have saved students in Tennessee upwards of $1,700 to $1,800 in interest over 10 years, according to Alexander.
PolitiFact goes on to point out that these numbers were Tennessee-specific, and that Alexander was making the obvious point that lowering the interest rate would save students money…
[W]e take issue with the fact that Graham leaves out the important detail that the new bill does not change the interest rate students pay on their loans, according to the education policy experts we spoke with. "This bill does not change interest rates in any way shape or form," said Jason Delisle, director of the Federal Education Budget Project for the Education Policy Program for the New America Foundation. "They are already in law and they're going to stay that way."
So to say that students are somehow paying $1,700 or $1,800 more is wrong.
And kudos to PolitiFact for schooling pols who are supposed to know the facts before shooting their mouths off.