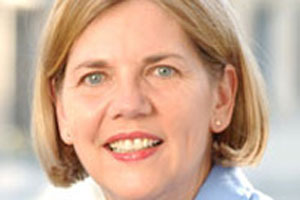 On Thursday afternoon, I participated in an event at the New America Foundation with Elizabeth Warren, the head of the Congressional Oversight Panel, which monitors the TARP bailout, and the No. 1. advocate for creating a Consumer Financial Protection Agency, which would regulate credit cards, mortgages, and other financial products. Warren spoke first, focusing on the need for a CFPA, which has been the subject of intense, behind-closed-doors negotiations in the Senate recently. Warren, who is also a Harvard law professor, was her usual folksy self and boiled down complicated financial issues to easy-to-understand matters. Slamming the big banks that have raised credit card interest rates the past year—after being rescued with tens of billions of dollars in taxpayer money—she made a simple but damning point: "We lend our money to them at 0 percent interest and they lend it back to hard-working families…at interest rates that have doubled or tripled." (You can watch a video of the event.)
Warren also eloquently explained how the financial industry has perfected "a complexity machine." First, she said, credit card firms began developing very complex products so consumers could no longer compare them and determine which were cheaper, and mortgage companies did the same. Next, the financial titans went hog-wild with complex derivatives and other instruments that even CEOs of the big companies couldn't completely understand, and this allowed those who were in-the-know to make massive amounts of money. Finally, the financial industry's lobbyists, looking to beat back reform after the crash of 2008, have contended that high finance is a "complex" world and establishing a CFPA would be more "complex" than it seems. "The point of the complexity machine," Warren remarked, "is to create a smoke screen to permit people in Congress to vote with the banks against families."
After Warren spoke, it was my job to toss her a few questions. I noted that she could well soon be an arbiter—"the influencer," I put it—regarding the Senate version of the CFPA, for a lot of people will look to her to decide if this version is good enough. (Sen. Christopher Dodd, the Democratic chairman of the Senate banking committee, has announced he will release his financial reform package on Monday.) Was Warren prepared to say kill the CFPA—which was oiginally her idea—if Congress doesn't establish a sufficiently vigorous agency? "I'm not the influencer," she said, too modestly, adding, "But if you're asking me the question—if it has no clothes, are you willing to say, 'Naked?'—you bet, sure. I'm just not interested in one more bureaucracy."
We continued to chat, and at one point, I asked if she has been talking to Dodd and his staff about the CFPA. "No, not at all," she said. ("Do they have your number?" I asked.) Then I posed a final question: "Do you have any interest in running for Senator from Massachusetts?" (After Republican Scott Brown defeated Democrat Martha Coakley in the special election to fill the Senate seat left vacant by Ted Kennedy's death, Ethan Porter in a Boston Globe op-ed contended that Warren would be the Democrats' best candidate to take on Brown in 2012.) The following exchange ensued:
Warren: Are you asking me if after a year and a half here, I am more attracted to coming to Washington?

Corn: That's one way of putting it.

Warren: That's one way of putting it. Yes, that, or I can stab myself in the eye.

Corn: Is that a no?

Warren: It's my view about Washington.
That didn't strike people in the room as a door-is-closed-and-slammed-shut-and-locked-with-the-key-thrown-into-a-bog no. And Warren said no more on this matter. Earlier in the event, she had remarked that if the Senate is "incapable" of backing American families and reining in Big Finance, then "the government is broken." So perhaps what happens with her baby, the CFPA, will affect Warren's thinking on whether her next step ought to be as painful as a stab in the eye.