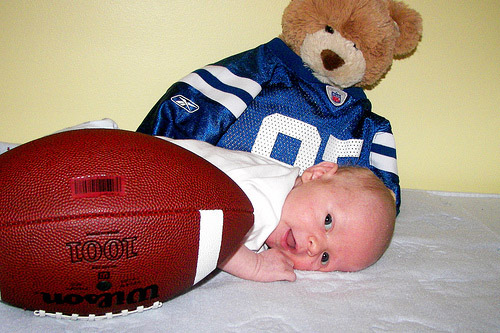 A bit of drama over at CBS, where the television network, after
approving an anti-abortion Super Bowl ad
sponsored by Focus on the Family, found itself in the awkward position of having to review an ad from ManCrunch, a gay online dating site. CBS ultimately rejected the ManCrunch ad, and a number of bloggers on the left are calling it everything from blatant discrimination to reasonably nixing a lame ad that was never worth fighting for anyway. (See
AtlanticWire
for a good round-up.)
For the record, the Focus on the Family ad shows that not having an abortion significantly increases your chances of having a famous football player for a son, and the ManCrunch ad shows that even if you're two straight-ish-looking commercial actors, an accidental brushing of hands in the chip bowl raises your chances of experiencing a spontaneous man-on-man make out session.
Meanwhile,
Liliana Segura at
AlterNet
wonders whether NFL quarterback Tim Tebow's birth story, which provides the juicy material for the Focus on the Family ad, is even true.
Interesting to note that Focus on the Family recently hired 27-year-old Esther Fleece to bring Twitter-savvy millenials—who, according to Fleece, find some of their older predecessors' anti-gay rhetoric alienating—into the conservative Christian fold. To read more about Fleece, be sure to
check out Stephanie Mencimer's excellent article
in the most recent issue of
Mother Jones
. Also
see Tim Murphy's post
on the ongoing rift at Focus on the Family.