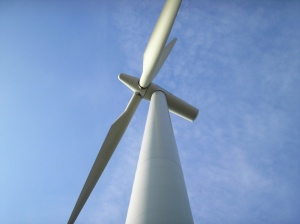 Will Cape Wind finally get the green light after nine years of delays? It now looks like Interior Secretary Ken Salazar will make the ultimate decision on what could be the country's first offshore wind farm.
Salazar hosted meetings between the parties involved in a hotly contested dispute over whether to build the 24-square-mile, 130-turbine wind farm in the Nantucket Sound. Earlier this month the National Park Service determined that the sound could be considered for listing in the National Register of Historic Places in response to a request from local Native American tribes. But the tribes were just the wind farm's newest opponents: a campaign backed by dirty energy interests has been trying to thwart the project for nearly a decade.
Salazar brought together the Cape Wind developer, the tribes, state and national historic preservation officers, environmental groups, local governments, and other key parties together in Washington on Wednesday. Salazar said the agency has decided to extend the public comment period on the project until Feb. 12. The involved parties have until Feb. 28 to reach a resolution on how to progress. Changes to the project—like reducing the total number of wind turbines or changing their color or their arrangement—have been listed as possible measures to address opponents' concerns. So far, opponents have held firm that they do not want the turbines in the sound.
If the parties can't reach an agreement, Salazar and the Department of Interior will make a final determination on the project, taking into consideration both the need for renewable energy development and the responsibility to protect historic locations. That decision will be reached in April, Salazar told reporters following the meetings. "We will bring this process to conclusion," said Salazar. "I think 9 years after an application was filed with the United States government … to have it face a future of uncertainty is bad for everybody."
Speaking to reporters after the meeting, Cape Wind president Jim Gordon called the discussion "very constructive" and said he was "convinced" that Salazar would ultimately approve the project.
Salazar acknowledged that declaring the sound off-limits to development "could have far-reaching effects" on subsequent efforts to build offshore wind farms. But he did not think that this decision will determine the entire future of offshore wind development, as Cape Wind's advocates have warned. "From what I have seen across the country, there is already tremendous investment going on with respect to wind energy," he said. "I don't think Cape Wind one way or another will be determinative of the future of wind energy or the investment in wind energy jobs here in the United States."
Yet advocates of the project believe that Cape Wind could prove criticial to kickstarting the US wind industry. "We passionately believe that this is the right project in the right place at the right time," said Gordon.