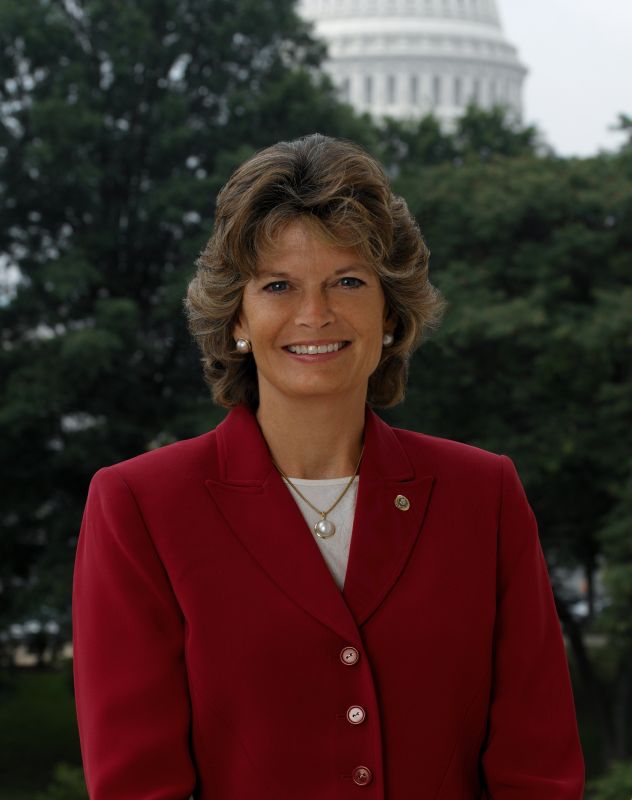 Fight disinformation:
Sign up
for the free
Mother Jones Daily
newsletter and follow the news that matters.
The Environmental Protection Agency signaled last month that it intends to move forward on regulating greenhouse gas emissions, in the absence of a new law governing the planet-warming gases. But if Alaska Republican Sen. Lisa Murkowski gets her way, the EPA won't get very far.
The ranking member of the Energy and Natural Resources Committee wants to tack an amendment onto unrelated legislation dealing with the statutory limit on the public debt that would curb the EPA's ability to regulate emissions. The move comes after the agency last month finalized their finding that greenhouse gases are a threat to human health, a necessary first step to moving forward on regulations.
Murkowski has been among the most active opponents of EPA regulation of greenhouse gases of late, despite stating repeatedly that she does want to see action taken to cut emissions. "I remain committed to reducing emissions through a policy that will protect our environment and strengthen our economy, but EPA's backdoor climate regulations achieve neither of those goals," Murkowski said last month. "EPA regulation must be taken off the table so that we can focus on more responsible approaches to dealing with global climate change."
Murkowski's measure is expected to go up for a formal vote on Jan. 20. Murkowski made a similar move last September, but was not successful. That particular measure was to have been added to an appropriations bill, and would have called for a year-long "time out" on EPA action regulating stationary sources of emissions, like power plants, manufacturers, and refineries. It would have blocked work on regulations at the agency by prohibiting the use of any agency funds for that purpose, though the EPA would have been allowed to move forward on regulations of emissions from automobiles and other mobile sources.
Murkowski's spokesperson said yesterday that there has not yet been a decision on whether to offer the same amendment, or something similar. At this point, all her office can say is that it will deal in some way with EPA regulation of emissions.
While the exact language for the amendment is not nailed down, it is clear that Murkowski intends to block the EPA from following through on both the Supreme Court directive issued in 2007 and the long-standing Clean Air Act. The court ruled in the 2007 case Massachusetts v. EPA that the agency could regulate greenhouse gases under the Clean Air Act, if they are found to be a hazard to human health—and that it has an obligation to under the law if it reaches that conclusion. The Bush administration chose to ignore that directive for two years, but the Obama EPA moved forward with an initial finding last April and, following the obligatory comment period and review, then finalized it last month.
Once an emission is found to be a hazard to human health and welfare, the Clean Air Act mandates that the EPA "shall" begin regulating the sources of that pollutant. That's not "could" or "may"—that's a requirement, by law. To refrain from doing so would violate the law, which was both passed by Congress and upheld by the Supreme Court. But Murkowski is attempting to paint EPA regulation as some sort of weaselly back-door measure invented by the Obama administration and an attempt to subvert congressional action.
"The EPA has taken these actions despite the fact that Congress is continuing to work on climate legislation. I find that highly counter-productive, especially as our nation struggles to regain its economic footing," Murkowski said. "Make no mistake—Congress is being threatened in a misguided attempt to move a climate bill forward." (Which, of course, ignores the fact that legislators haven't actually managed to regulate planet warming emissions on their own yet.)
While it's unlikely that Murkowski's most recent attempt to stop the EPA will yield the 60 votes needed for approval, just how many votes it does get will be important. As one industry lobbyist noted yesterday, some see it as a test vote on where the Senate stands on climate legislation. If it gets 40 or more votes, it might indicate a low level of enthusiasm for regulating carbon anytime soon—either via Congress or via EPA. How key fence-sitting Democrats and Republicans vote will also be followed very closely by all key players in the climate debate. The moderate Democrats who have been less than enthusiastic about voting on climate legislation (see: Ben Nelson, Evan Bayh, Mary Landrieu) would be of particular interest.
At the same time, there are a number of senators, Murkowski included, who are decidedly against EPA regulation but could possibly support a new bill that would cut emissions. So just how important the vote on this amendment will be isn't yet clear.