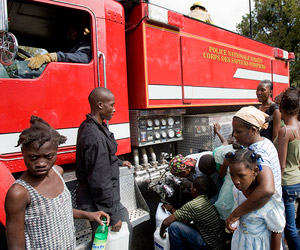 Fight disinformation:
Sign up
for the free
Mother Jones Daily
newsletter and follow the news that matters.
This article originally appeared on Global Post.
The images emerging from Haiti's massive earthquake are gut-wrenching. As usual in such disasters, Americans are responding generously. Millions of dollars will be raised.
If you're considering doing your part, that's great. But, experts say, whatever you do, don't donate anything but money. Under no circumstances should you mail care packages, toys, food or clothes. Don't even think about sending drugs. The response to prior disasters shows that regardless of your intentions, you will only be making matters worse.
That's what happened in the aftermath of the December 2004 tsunami. The disaster was followed by an unprecedented outpouring of global generosity. This dramatically facilitated the grisly chore of cleaning up the tens of thousands of bodies left under the tropical sun, and it funded a reconstruction effort that, while far from perfect, provided roofs over the heads of many.
But aid workers joked that the real tsunami was followed by another tsunami—of misguided goodwill. In an effort to help, people shipped boxes, often following the instructions of local television news programs. And so in Aceh, Indonesia amid the trauma, hunger and devastation, care packages piled up containing everything from pajamas and teddy bears to birth control pills and Bibles—a hodgepodge impossible to sort through. There were boxes filled with half-used ointments and prescription drugs, as if do-gooders had cleaned out their medicine cabinets. And some unscrupulous corporations—exploiting tax write-offs for soon-to-be-expired pharmaceuticals—apparently shipped whatever had been lying around the warehouse for too long.
It all amounted to a mountain of materials that confounded the efforts of the pros, and made it more difficult to deliver essential supplies on the earthquake-ravaged roads.
Months after the aftershocks stopped, the French aid organization Pharmaciens Sans Frontieres (Pharmacists Without Borders) conducted a study of that second tsunami. In a world where most people lack adequate access to medicine, the results were a travesty.
To learn more about how in-kind donations can cause more harm than good after natural disasters, read the rest of this article at Global Post.