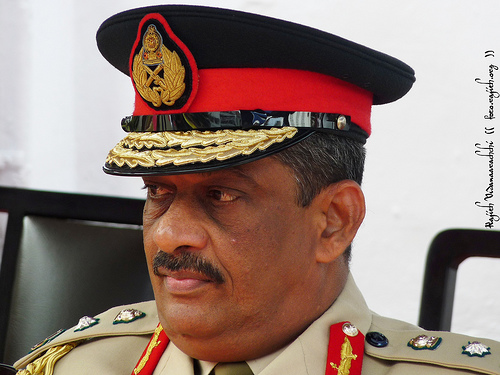 Fight disinformation:
Sign up
for the free
Mother Jones Daily
newsletter and follow the news that matters.
Six months after he engineered the defeat of the LTTE (Tamil Tigers), Sri Lanka's former top general announced plans Sunday to headline a broad opposition ticket in his country's special elections in January. His bid—on the heels of one of the bloodiest and longest-lived civil conflicts in modern history—is not without international controversy.
Sri Lanka came under heavy international criticism beginning last September, when it evicted the UN and all foreign NGOs from contested northern territories. Observers speculated that the military was gearing up for an endgame with the rebel Tamil Tigers—a separatist group from the island's ethnic Tamil minority that fought the Sinhalese majority for close to a quarter century. According to official estimates, as many as 20,000 Sri Lankan Tamil civilians were killed between January and May of this year. Six months later, 280,000 of them still languish in Displaced Persons (DP) camps; today, for the first time, 130,000 were given clearance to leave what observers have described as an "open-air prison". A recent US State Department report implied that both the president and the general (among others) may be responsible for war crimes. And yet, between Sri Lanka's president and its army chief, the battle is more about who deserves the glory than who should take the blame.
Sunday's announcement comes after weeks of political infighting between the sitting President, Mahinda Rajapaksa, and ex-Army General Sarath Fonseka. The president accused the general of hogging the spotlight, and 'promoted' him to a largely ceremonial post, from which the general promptly resigned. Now, with early elections looming, Fonseka's lobbing criticism at the government, which he says continues to impinge freedom of the press (foreign reporters were barred from the country in the final weeks of fighting and access to DP camps is still severely restricted) and has done too little to resettle refugees.
Many in Sri Lanka believe Fonseka is the last best hope to defeat a "tin-pot dictator". But others find the general's rhetoric worrying. Last September, he was quoted in Canada's National Post as saying:
I strongly believe that this country belongs to the Sinhalese but there are minority communities and we treat them like our people…They can live in this country with us. But they must not try to, under the pretext of being a minority, demand undue things."
He also got himself in a pickle earlier this month, when U.S. immigration officials tried to detain him for questioning during a visit with his daughter in Oklahoma. (Several top Sri Lankan officials, including Fonseka, are duel citizens or green-card holders). With little more than a month until elections, that's probably something he'd rather avoid.