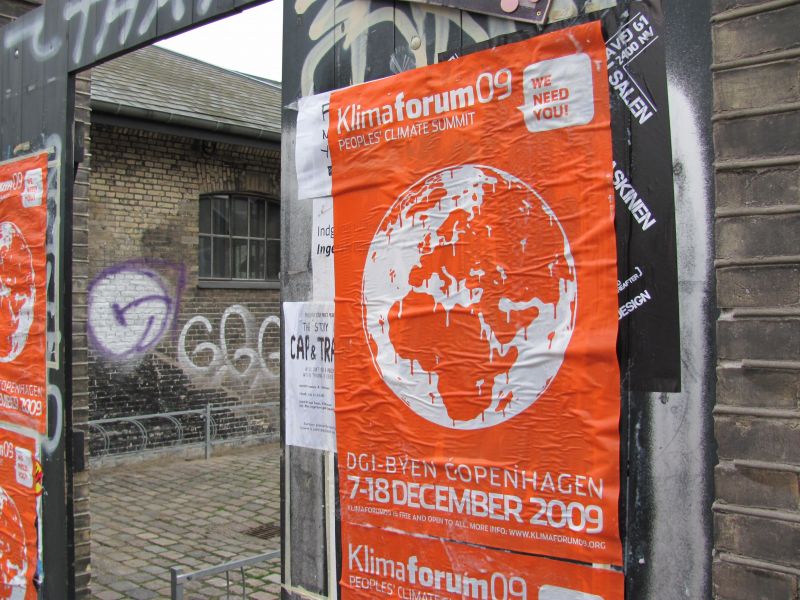 Capitalism, corporate lobbying, and consumptive culture are killing the planet—and the only acceptable solution is a radical overhaul of the global political and economic system, say delegates at a climate summit in Copenhagen this week. Not the climate summit, where negotiators are painstakingly haggling over a modest deal that may or may not slow the pace of global warming. This clarion call is what a climate agreement might sound like if matters were decided by Klimaforum, otherwise known as the "people's climate summit."
Headquartered in an old slaughterhouse in Copenhagen's red light district, near shops named "Sex Porn" and "Non-stop Sex Show," this shadow conference takes a very different approach to solving the problem of global warming than the one being pursued by the official United Nations meeting. Participants hail from the leftward end of the activist spectrum (although they shouldn't be confused with the even leftier group planning to disrupt the UN summit on December 11, whose equipment was confiscated by the police yesterday, or yet another group of protesters planning an action on the 16th). When I arrived for the afternoon plenary on Wednesday, a guy was on stage strumming a guitar. Hemp-fiber clothing appeared to be the negotiating attire of choice. "All the signs are that the governments, the leaders of the world, are going to betray the people of the world and every living thing," said British climate activist Jonathan Neale of the Campaign Against Climate Change. "We have to mobilize a mass movement that is going to make the governments of the world act."
While it's a much lower-profile enterprise than the COP15 summit, Klimaforum received $1.6 million in funding from the Danish government, and expects 7,000 attendees representing 95 countries, according to Safania Eriksen, head of activities and logistics for the event. One of its goals is to draft a "people's declaration" which will be sent over to the official negotiations next week. "There is so much lobbying from the transnational corporations. Many, many different economic interests are involved in the negotiations at the Bella Center. The decision making is really not democratic," said Kirsten Gamst-Nielsen, a member of the Klimaforum board. " We represent the grassroots."
I sat in on the consensus process for drafting this declaration. There were some welcome improvements over the official summit. Negotiations at the UN meeting occurs behind closed doors—hence the controversy over the leaked Danish text earlier this week—but at the alternative forum it takes place in the open. Participants lined up to suggest changes to a draft statement—their suggestions included requests to endorse a world-wide carbon tax and to acknowledge the specific impact of climate change on women, people of color, and indigenous communities.
But in one very striking way, the people's forum was a lot like the official forum—which is to say there was plenty of disagreement. In the same way that industrialized nations and emerging economies are duking it out at the United Nations talks, at Klimaforum there's a visible divide between what you might call the hippies and the hard-liners.
So, on the one hand you have participants like Rolf Jackson, who works with the Danish ecovillage movement and wanted the declaration to recognize the "the unity of life and the bond that ties all humanity." He added that it should embrace "spiritual truth, universal love, and willing sacrifice." And on the other hand, you have activists pushing for tough measures on climate who have little patience for such feel-good sentiments. "I feel like there is a need for more anger," said a Guatemalan activist named Norma Maldonado. "I don't see that from the people here. They're more like peace and love and kind of this new age thing."
Maldonado expressed exasperation that the alternate summit wasn't better attended, and that the attendants weren't sufficiently outraged about climate injustices. "I don't know what it's going to take for the Europeans, for the people in the north to get more involved," she said. "I think we demand more core responsibility—not solidarity or any of that stuff." She added:"I don't like any of this new age thing, that we need to be in touch with the earth and that."
Other attendees calling for bolder measures to address the fallout of climate change included Jahahara Amen-Ra Alkebulan-Ma'at, an Oakland-based representative from the National Coalition of Blacks for Reparations in America, who suggested that the document call for payouts from big polluting nations for the "crimes against humanity and nature" they have committed against impoverished nations on the frontlines of global warming.
Klimaforum is expected to release its declaration in the next few days. But whether the people's summit will do any better at reaching a consensus than their counterparts at the United Nations still remains to be seen.