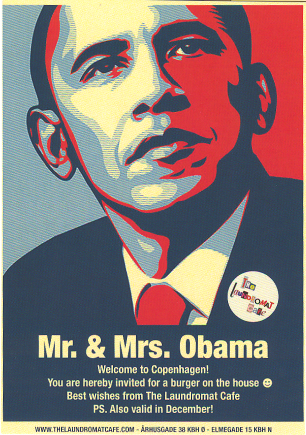 Fight disinformation:
Sign up
for the free
Mother Jones Daily
newsletter and follow the news that matters.
Good news: Barack Obama will travel to Copenhagen for the beginning of the United Nations summit on climate change next month. He'll make an appearance at the meeting on December 9, according to an administration official—a brief stopover en route to pick up his Nobel Prize in Oslo the next day.
Really good news: Obama plans to put a solid target for US emissions cuts on the table when he gets there. Obama will promise delegates at the summit that US will cut emissions "in the range of 17 percent below 2005 levels by 2020," according to a White House official.
Not so good news: He's not planning to return for the end of the summit, which runs through Dec. 18. That's when approximately 65 other heads of state and government are expected to attend.
What to make of this? Well, now that it's clear that there's not going to be a final treaty in Copenhagen, the presence of heads of state is not quite as important. The real work is still to be done by negotiators.
But Obama's early appearance will help set the tone for the event, showing high-level US engagement with the issue (and perhaps even a desire on Obama's part to earn that Nobel he'll receive the next day.) Appearing later—when it probably wouldn't influence the conversation one way or another—might only lead to a repeat of what happened with the Olympics in October. If Obama shows up to much fanfare and nothing happens, that will only create bad press.
The emissions cuts promise is the really major news here. Having a solid commitment from the US—one involving actual numbers—is expected to lubricate the climate talks significantly. Sure, the 17 percent figure is not nearly as high as the reductions called for by the European Union, Japan, many developing nations—OK, basically everyone else in the world. Yet the hope is that if the US shows its cards, other key players (like China and India) will also start talking in real figures. Obama showing up in person to present those numbers is a pretty big deal.
The White House also announced that a number of cabinet secretaries and other top officials will make an appearance in Copenhagen during the conference. Scheduled to attend and give speeches at the summit are Interior Secretary Ken Salazar, Agriculture Secretary Tom Vilsack, Commerce Secretary Gary Locke, Energy Secretary Steven Chu, Environmental Protection Agency Administrator Lisa Jackson, Council on Environmental Quality Chair Nancy Sutley, and Assistant to the President for Energy and Climate Change Carol Browner. Their presentations, the White House said in a press release, will "underline the historic progress the Obama Administration has made to address climate change and create a new energy future."