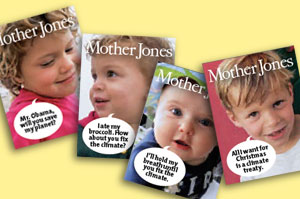 Fight disinformation:
Sign up
for the free
Mother Jones Daily
newsletter and follow the news that matters.
"IF YOU DON'T Buy This Magazine, We'll Kill This Dog" was the headline of a famous 1973 issue of National Lampoon. The cover, with its mutt worriedly glancing at the gun pointed at its head, has itself been lampooned many times. (Texas Monthly recently paired an image of a shotgun-wielding former VP with the line "If You Don't Buy This Magazine, Dick Cheney Will Shoot You in the Face.") But the inside joke still holds: When inspiration fails or sales are slow, magazine editors default to grabbing heartstrings. Entire publishing houses survive on this gimmick—can MoJo get in on the action?
Actually, our decision to print four different covers featuring four cute kids was prompted neither by lack of inspiration nor the need to goose newsstand sales (though we'll take them!). Rather, it's our way of distilling the most important story of our time to its essence: Fix the climate, or the kid gets it.

No one outside the loony fringe (paging Sen. James Inhofe) disputes that the CO2 we're pumping into the atmosphere is radically altering the planet. What hasn't sunk into the public consciousness is that this means not just melting ski slopes and drowning polar bears, but death and dislocation for millions of people and catastrophic upheaval for industry and agriculture worldwide. And yet, absent "death panels" demagoguery, it's hard to get worked up about a problem whose worst effects are decades away. That's true even when you've been obsessing over the issue for years: We edit story after story on climate change, yet it's only when we stop to consider the specifics that the reality fully sinks in. Without drastic action, by the time our kids reach their 40s, the Southwest will have become a dust bowl; 30 percent of the planet's species will be extinct; 200 million people will have become climate refugees. Confronting the future that awaits them leaves us with a profound sense of dread—and guilt.
No one enjoys dread and guilt, which doubtless is part of the reason why climate change shows up at No. 20 on Americans' list of issues to worry about. Only 30 percent consider it a "top priority," compared with 38 percent in 2007; "protecting the environment" has fallen even more precipitously, from 57 percent to 41. Those aren't good numbers, especially when world leaders are poised to meet in Copenhagen in December to hammer out the most important climate treaty ever.
Now the obvious excuse (and the refuge of spineless pols—paging Sen. Harry Reid) is, Look, you can't really expect people to care about green issues in the middle of a global recession. Voters worry more about keeping a roof over their kids' heads than about how fast some glacier is melting.
Except for two things: One, if that were true, it would apply globally—but in fact, only Americans are so unconcerned about climate change. We give it a priority of 4.7 on a scale of 1 to 10, while Mexicans rank it 9, Chinese 8.9, Brits 8.2, Nigerians 7.8, and Russians 7.4. Only Iraqis (5.1) and Palestinians (4.9) come close to our nonchalance (and they have pretty compelling excuses for being distracted).
And two, climate change isn't chiefly an environmental issue. It's a massive social and technological challenge that will, whether we like it or not, force the wholesale transformation of our economy. We can work with that change or against it, but it's happening no matter what. Put it this way: If you knew that the industrial revolution was coming, would you invest in hand looms? That's why, in September, a group of mega-investors managing some $13 trillion in assets, the equivalent of one-fifth of the world's entire annual economic output, put out a statement urging the Copenhagen negotiators to maintain a "stable investment climate"—by passing a strong treaty.
So on the matter of whether we should worry more about the economy or the future of the planet, the answer is: Wrong question. We may not know which cities will get hit by hurricanes, which agricultural regions will dry up and blow away, which economies will crater as energy innovation shifts overseas, but we know the foreclosure crisis will look tame by comparison.
So what can anyone do? What can we do? Journalists make lousy organizers—and there are plenty of activist groups out there. But what, at this critical juncture, is our profession's task? If climate change is the most important story of our time, why is it being covered piecemeal: horse-race politics over here, green activism over there, science and tech breakthroughs, business, urban planning all in their various corners? It's journalism's job to bring these elements together, to synthesize disparate data points and let the public and policymakers find the big patterns, bigger pitfalls, and biggest opportunities.
To that end, we're forging a collaboration with a range of news organizations—magazines, online news sites, nonprofit reporting shops, multimedia operations—because we each have different strengths, but working together we can cover this story better than any of us could on our own. This issue, which features the work of five separate outfits, shows a glimpse of what is possible. We're also part of a team reporting effort focused on the critical Copenhagen talks; visit MotherJones.com for details. And while you're there, create your own climate message: You can make a Mother Jones cover featuring a picture of your child (or grandkid/nephew/cat), add a note, and send it to your friends, your members of Congress, and your president. We'll feature them on our site. (Those are our kids at the top of this end note.)
Not that we think putting another picture on your Facebook page will cause Congress to grow a spine. But it's one way to make the point that we still have the power to shape our children's future. Just for perspective: The entire sum required to buy off Third World opposition to carbon caps is around what we spent to bail out Fannie, Freddie, and AIG. And hey, Europe's on the hook for at least half.
So yes, this is the worst time for an international climate treaty—except for any other time. Our kids will measure us by how long we tarried. What will we tell them?
Update: Read an interview with Clara on the climate collaboration in Ad Age here.