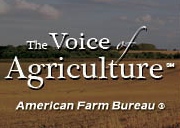 Fight disinformation:
Sign up
for the free
Mother Jones Daily
newsletter and follow the news that matters.
The American Farm Bureau Federation is pointing its pitchforks at the Senate climate bill with a major new lobbying campaign, "Don't CAP our Future."
The Farm Bureau has been voicing opposition to climate action since the House passed a bill in June, expressing discontent with the concessions that they helped secure in that bill for agriculture. Now they're urging members of the agriculture community to oppose the Senate bill—and raising doubts about whether climate change is a concern.
"Activists claim there will be droughts, floods, loss of species and more, if the Senate does not pass the Climate Change bill. But their bill wouldn't even help the climate," they argue on their website, instructing members to write letters to their senator. "The fact is politics is driving the need for passage—not facts! The cap-and-trade bill does nothing for Climate Change—it's simply a tax on U.S. energy that gives other countries a free pass. That's wrong. This is the kind of policy we ask you to stand against today."
According to a memo emailed to Farm Bureau members and obtained by Mother Jones, they're also urging state bureaus to hand-deliver to their senators' in-state offices farmer-style hats—or, if you prefer, "farmer caps"— bearing a AFB sticker opposing the legislation. They're also sending starter kits for the campaign to their state affiliates by November 6.
Using the familiar farmer cap and the "Don't CAP Our Future" message sticker to brand the cap with opposition to the issue, state Farm Bureaus can influence your Senators with a visual impact. The farmer caps plan is designed to be used in the state and multiple events.
In addition, the Bureau has created an "action center" that will be used to target specific senators, a petition that members can sign, and a form letter to send to senators:
The Senate's cap-and-trade bill is a sweeping measure that will have a negative impact on agriculture by raising production costs and lowering farm income. Agriculture will incur higher fuel, fertilizer and energy costs from this bill. Please vote against this bill.

I am greatly concerned about rising energy costs and what they might do to my farming operation. I depend on abundant and affordable energy not only for operation of vehicles, but also for the costs of fertilizers, irrigation and crop protection tools.

The potential for tremendous harm to U.S. agriculture is real. A number of agricultural sectors and areas of the country will not be able to benefit from offsets in the bill. Not all commodities or areas of the country are able to take advantage of potential offsets. But all of agriculture will suffer from higher production costs.

Please oppose the Senate climate change bill. Thank you for your consideration.
AFB President Bob Stallman has not only pushed for provisions that environmentalists believe would reduce the efficacy of a climate bill, but in written testimony submitted to the Environment and Public Works Committee in July he repeated climate skeptic talking points. From his testimony:
We know that there have been times in the earth's history when carbon concentrations in the atmosphere were greater, when temperatures have been cooler or warmer—in short, there are any number of variables that probably affect the earth's climate in ways that we simply don't know.
The "cap" campaign is just the latest installment of the Farm Bureau's efforts to throw climate legislation off track.