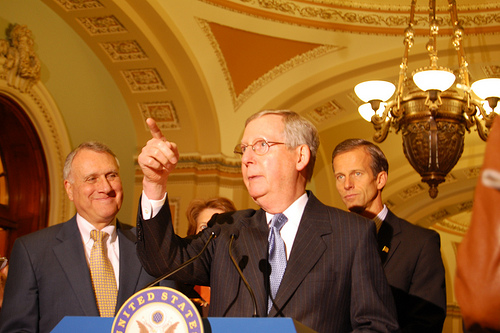 Fight disinformation:
Sign up
for the free
Mother Jones Daily
newsletter and follow the news that matters.
On August 24, anti-abortion activist Randall Terry showed up in front of the Louisville, Kentucky, office of Senate minority leader Mitch McConnell. Dressed like a doctor, Terry raised a prop knife and proceeded to stab a baby doll and then someone dressed as an old lady in protest of—what else—the "death panels" supposedly harbored in Democratic health care reform plans. McConnell was an odd target for Terry's theatrics, given his 100 percent pro-life voting record. But Terry's beef wasn't with McConnell's abortion record. Instead, he was upset because he believes McConnell isn't fighting hard enough to defeat the Democrats' health care reform proposals. Terry told reporters, "If he exercised good leadership, [he] could single-handedly destroy this bill. But so far he has not displayed the backbone."
Terry is, of course, a fringe figure. Still, he seemed to be on to something. During the month of August, while town hall meetings all over the country were erupting into shouting matches, energizing Republicans, McConnell was all but invisible. While he's made a few critical comments about the Democrats' plans to his hometown media, the nation's top elected Republican spent the August recess like a local pol—in Kentucky, touring big construction projects benefiting from the federal largess he'd helped secure. Meanwhile, the health care debate raged on, with Senators John Kyl of Arizona and Tom Coburn, the Oklahoma doctor, making the GOP's national case.
McConnell, who has been minority leader since 2006, has since stepped up his involvement. Last week he told Roll Call that President Obama's plan to address a joint session of Congress Wednesday wouldn't have any effect on Republicans, whom he said still wouldn't support his reform plan. "I don't think the problem is messaging," McConnell said. "The problem is what he's trying to sell."
He also attended ticketed health care meetings last week in Florida, North Carolina, and Missouri and made some headlines for suggesting that Obama should "start over" on health care. But even then, his traveling companion at these events, former presidential candidate John McCain, was the real newsmaker and big draw—a sign, perhaps, that the GOP leader is little known to the American public. McConnell's office did not return a call for comment on whether his low profile has been an intentional strategy, but some conservative critics say that McConnell's skimpy presence in the health care debate is symptomatic of long-running problems with his leadership.
When Republicans reelected McConnell unanimously as minority leader after last November's election, some conservatives argued that he was too wishy-washy to be the Senate leader in a party struggling to find its mojo. Erick Erickson, the editor of the widely read conservative blog Red State, blasted him in a January post titled, "Mitch McConnell Lost His Testicles and Now Infects the Senate GOP With a Cancer." The post included a laundry list of McConnell's alleged failings, most of which involved his willingness to go along with Obama's economic policies and failure to challenge Senate majority leader Harry Reid's committee assignments.
This summer, during the debate over the nomination of Supreme Court Justice Sonia Sotomayor, one Christian conservative activist, Manuel Miranda, publicly called McConnell "limp wristed" for failing to oppose her nomination strenuously. Miranda, a controversial ex-staffer for former Senate majority leader Bill Frist, opined that McConnell should resign if he wasn't going to pump up the volume during the hearings. (Miranda left Frist's office after an internal Senate investigation found that he had secretly accessed Democratic staff computers, pilfered documents, and leaked them—charges that Miranda disputed.)
In an interview, Miranda says of McConnell, "I wish him well; I wish he were majority leader. But the thing is I think people should be held accountable. Since the time he's been in leadership they've lost 15 seats. There has to be a reckoning. They haven't done that." Miranda isn't surprised by McConnell's low profile during the health care debates: "He's such a cautious person that he's doing the bare minimum. But he's not just the minority leader. He's the de facto leader of the entire party."
Miranda says McConnell has a limited set of issues that he cares about, such as campaign finance reform. (In fact, McConnell has filed an amicus brief in a major challenge to the McCain-Feingold campaign-finance-reform law that will be heard by the US Supreme Court on Wednesday.) "You don't get the sense from McConnell that he can walk and chew gum at the same time," he says.
Richard Viguerie, a prominent conservative activist and critic of the modern Republican Party (he was a Ron Paul supporter in 2008), has also decried McConnell's leadership. "Very few people have done more to hurt the standing of Republicans than Mitch McConnell," he gripes. "In terms of providing national leadership, he's a disaster. He clearly does not want to be a national spokesman or national leader. So few Republicans in the country have access to the nation's microphones and he's one of them, but he won't use them."
For all the sniping from the fringes and the blogosphere, though, McConnell enjoys significant support within the party. Brian Darling, director of Senate relations at the Heritage Foundation, says that McConnell's sotto voce during the health care debate is simply realistic politicking. "He doesn't need to be front and center of the health care debate," Darling says. "His goal is just to stop bad ideas because there's zero chance that his good ideas will pass."
Grover Norquist, the influential conservative insider and president of Americans for Tax Reform, agrees. "It is wise for the modern Republican Party not to match [Senate majority leader Harry] Reid and [House speaker Nancy] Pelosi blow by blow with sound bites," he says, adding that McConnell is smart to let the regular people showing up at the health care town halls dominate the discussion. Norquist thinks McConnell doesn't need to do much but get out of the way and let the Democrats hang themselves on health care.
Norquist credits McConnell for holding the GOP Senate caucus together to oppose the president's budget earlier this year and convincing people in his party to trust him that Obama's strategies were going to "look stupid" down the road. Norquist says McConnell's strategy has been vindicated by the recent health care debate, which has left Democrats on the defensive after the August recess and Obama's poll numbers falling: "I think he's doing fine. I have no complaints."
Perhaps the best indication that McConnell's performance on health care isn't bothering many in his party is the fact that no one is trying to knock him off—at least for now. Norquist says that unlike with previous Senate Republican majority leaders Frist and Trent Lott, "I have not heard anybody whining." He says no one is angling for McConnell's job. But given that the minority leader has only 40 votes in the Senate, compared with the Democrats' 57, Norquist concedes that not too many people really want the job, either.