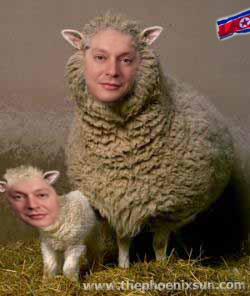 [News release condemning President Obama's choice of epidemiologist David Michaels to head the Occupational Safety and Health Administration]
WASHINGTON, July 29 /PRNewswire-USNewswire/—"Michaels supports the use of junk science as a basis for public policy and court decisions, representing a threat to employers, employees, consumers and taxpayers," said Steve Milloy, publisher of JunkScience.com. … Michaels runs something called the Project on Scientific Knowledge and Public Policy.

Source: JunkScience.com
For Immediate Release
Legendary Journalist Raises Really Good Questions About the Ethics of Cloning Steve Milloy
WASHINGTON (or maybe Phoenix, AZ), July 30 /CompletelyLegit Newswire, Inc./—
Taking valuable time away from his work saving the planet, journalist Osha Gray Davidson issued a statement today that should be read by everyone, sources close to Davidson say.
"Frankly," revealed eminent newsman Davidson, "I'm alarmed. The implications of cloning something called Steve Milloy are disturbing for Americans, humans living outside the United States, and all species, genera, families, orders, classes, phyla, and kingdoms – with the possible exception of some spirochetes I haven't had a chance to interview."
Davidson's restrained yet amazingly spot-on remarks were a reference to a news release issued by Steve Milloy Wednesday repeatedly quoting Steve Milloy, including, in one instance, bolstering an argument made by Steve Milloy by quoting a WSJ article written by Steve Milloy.
"Clearly, someone has cloned the guy," deduced the Sherlock Holmes-like Davidson. "My hunch is the North Koreans. But the real question is: how many Milloy clones are out there? The existence of two has been proven by Sound Science©. With the WSJ citation, we are now forced to consider the possibility of Milloy triplets."
Such an occurrence, if true, would be nine times more dangerous than a single Milloy, according to the Davidson Formula of Danger Squared, as obliquely referenced in this press release, added Davidson.
Milloy, a commentator for Fox News, is best known by this reporter for his spirited defense of corporate pariahs Philip Morris and ExxonMobil, braving charges of bias and conflict of interest based solely on documented allegations that Milloy and his groups have received more than $100,000 from these companies.
There is a possible upside to cloning Milloy, however, pointed out the always fair and balanced (some have said "saintly") reporter Davidson.
"If there really are three Milloys," said Davidson, "I can imagine a scenario in which two of them become shills for opposing sides. Then the third Milloy could play the role of media analyst, debunking the tortured logic of the other two."
"If that happens," added an upbeat Davidson, "we could ignore all of them at the same time!"
Source: DavidsonInstitutefortheAdvancementofSophistry.wtf
[This piece appeared first in Grist in a slightly different form]