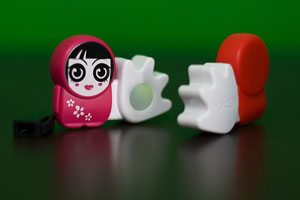 Business cards are so old-school.
The new way to exhange information? The poken, an electronic portal for personal deets. Basically, it works like this:
1. Upload your profile—including twitter, facebook, and other social network accounts—to the poken.
2. Touch your poken to someone else's.
3. Upload that person's information to your computer, and they can do the same.
I got the gadget at a recent social media gathering, and it's pretty nifty—even if it must reach critical mass to prove useful.