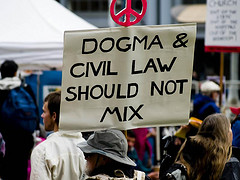 Fight disinformation:
Sign up
for the free
Mother Jones Daily
newsletter and follow the news that matters.
One of the most controversial issues related to the health care debate currently raging in Congress is whether the government plan, like most private plans, should cover the cost of abortions. And compromise on the issue may be impossible as Republicans and some moderate Democrats continue their campaign to distract the public by focusing on divisive issues like abortion. Dana Goldstein of the American Prospect writes today about the smear campaign, disseminated by conservative media outlets like Fox News, to portray health care reform as a tacit approval of government subsidized abortion:
Abortion is far cheaper and safer than pregnancy and childbirth and prevents society from shouldering the cost of children parents aren't prepared to care for. President Obama has said his health-reform goals are to offer Americans more health choices, bring down costs, and make our society, as a whole, a healthier one. In that context, abortion coverage is a no-brainer.
…
If every American were going to be covered by government-funded health insurance, we wouldn't be debating this topic. While constantly grandstanding on abortion, our political elites have been surprisingly adept at making sure women with the ability to pay — in other words, the daughters, sisters, and girlfriends of politicians — will always have access to abortion. But by maintaining a system full of inequities, in which women with fewer options and resources are more likely to rely on the new public plan, Democratic leaders have allowed abortion opponents, once again, to hijack a policy debate. And that, sadly, is uniquely American.
More than torpedoing compromise, though, pro-lifers from both sides of the aisle are actively trying to get abortion spiked from any bill that moves through Congress. Last month, 19 Democrats wrote to House Speaker Nancy Pelosi saying that they would not "support any healthcare proposal unless it excludes abortion from the scope of any government-defined or subsidized health insurance plan."
And President Obama is staying out of it. Louisiana Republican John Fleming claimed recently that "by being silent on this issue [Obama is] actually making an affirmative statement in favor of taxpayer abortions." That wouldn't be so bad, but instead it's something much worse. As Ezra Klein points out today, the health care discussion is being run by centrist Democrats and conservative Republicans. So by staying silent on the issue, Obama is not effectively condoning government subsidized abortion; he's letting it die on the table.