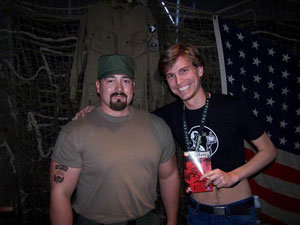 EA's "Sin to Win" promotion at Comic Con proved to be an epic fail. The sanctioned #lust Twitter tag is so swamped with critiques that its hard to find even one actual submission of an "act of lust." The original poster for the contest has been removed from Twitpic and replaced with an apology that refers to "booth babes" as "costumed reps."
In an effort to spin the promotion away from the assumption that all of their consumers are heterosexual men, EA "randomly" chose a gay gamer, who subversively submitted a photo of himself and a "booth bear."
The winner, PixelPoet, refused the runner up prize and posted the email he sent to EA about his decision on GayGamer.net, a site he invited EA to explore "as perhaps a first step in getting to know your many customers outside of the fratboy demographic this contest was seemingly designed to attract." He also gave EA several suggestions as to what should be done with the refused $240 gift card prize:
1)A new sexual-harassment training video/seminar

2) Another PR team to try to spin this whole debacle of a contest into a positive light

3) A direct phone line to EA's legal depart to use before you try anymore PR stunts

4) Six copies of your game when it releases, since I know you've lost at least that many fans with this stunt

5) Or the next time you go to Hooters (for the wings, of course), leave a $240 tip for your waitress in a karmic way of balancing out what has been done to the booth babes of SDCC due to this contest
Personally, I would love to see EA enact options 1, 4, and 5. PixelPoet at least deserves a free copy of the game, though perhaps instead of patronizing Hooters, the "costumed reps" would appreciate a $240 bonus for having to deal with the few attendees who thought the promotion was a good idea. And since, as PixelPoet points out, the promo happened on the heels of an EA event with GLAAD, it looks like they could use another sexual-harassment and safe space training.