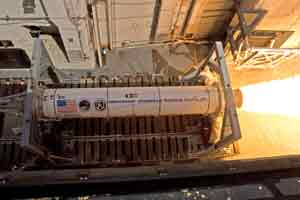 Fight disinformation:
Sign up
for the free
Mother Jones Daily
newsletter and follow the news that matters.
The over-budget and technically flawed Kinetic Energy Interceptor program may have been axed by the Pentagon this spring, but it lives on in the earmark-laden defense appropriations bill currently under consideration by the House. You know, the bill that Obama threatened to veto because it contained billions in pet projects for lawmakers seeking to bring home the bacon to their districts. Much of the work for the KEI project, a missile defense system designed to "destroy enemy ballistic missiles during their boost and early midcourse phases of flight," happens to be taking place in Johnstown, Pennsylvania. That's the hometown of Jack Murtha, whose unrivaled and unapologetic pursuit of pork has earned him congressional infamy—and landed him uncomfortably close to an FBI probe targeting lobbyists and defense contractors with whom he's had dealings. The Washington Post points to one reason why the terminated KEI program is nevertheless poised to reap an additional $80 million in the appropriations bill.
…Northrop Grumman, the principal contractor, is building a technology center in Murtha's district that would bring 150 related jobs, and Murtha's subcommittee sought its continuation as a way "to recoup the technology," according to an appropriations staff member, who was not authorized to speak on the record.
Taxpayers for Common Sense offers some additional details, observing that a subcontractor working on the KEI project is Kuchera Defense Systems. The Pennsylvania-based company, to which Murtha has steered millions in earmarks over the years, was raided by the FBI in January and is the subject of an ongoing investigation.
Today, Rep. John Tierney (D-Mass.) and Rush Holt (D-TK) took a stab at intercepting the KEI funding, introducing an amendment to strike it from the legislation. Earlier this afternoon, though, that measure failed, along with a raft of earmark eradicating amendments offered by Rep. Jeff Flake (R-Ariz.). At this rate, it looks like there's little hope of shooting down the KEI earmark.
Follow Daniel Schulman on Twitter.