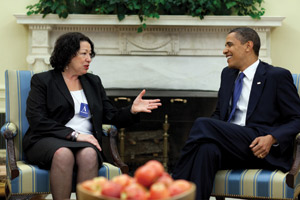 As a Supreme Court nominee, Sonia Sotomayor has a lot going for her: a stellar judicial record, a Yale Law School pedigree, a compelling personal history, and more trial experience than any other sitting justice. But while she's clearly a bright and talented lawyer, she unfortunately lacks one of the key qualities of a successful Supreme Court justice: writing skills. To put it bluntly, Sotomayor doesn't write very well. Reporters have sort of danced around this problem. The New York Times' Adam Liptak charitably described her opinions as models of judicial craftsmanship that are "not always a pleasure to read."
Liptak's analysis is something of an understatement. Sotomayor's opinions read like she's still following a formula she learned in college and show little of the smart narratives employed by the federal judiciary's brightest lights. Sotomayor's impenetrable legal opus stands in striking contrast to much of the work produced by the court she aspires to. Supreme Court opinions, the best ones, are words for the generations. There's a reason that so many Supreme Court justices are still quoted long after they've died. (Think of Robert Jackson, Obama's hero, who wrote in a 1950 opinion, "It is not the function of our Government to keep the citizen from falling into error; it is the function of the citizen to keep the Government from falling into error.")
The court's influence and lasting legacy is what it commits to paper. Sotomayor may be a force of nature in the courtroom, where she's said to shine, but it's hard to imagine her going head to head in print with, say, Antonin Scalia. The conservative justice is the master of the wicked one-liner and, while something of a smart aleck, he influences the public debate on so many issues because of his writing—whether he's in the majority or dissenting and whether he's right or wrong. Scalia's opinions are cited in leading constitutional law casebooks more than any other sitting justice. In the 2002 case Republican Party v. White, for instance, he quipped, "campaign promises are—by long democratic tradition—the least binding form of human commitment."
But it's not just his one-liners that make Scalia's writing so influential. It's also the way he frames his arguments. Take his dissent in PGA Tour v. Martin. That's the 2001 case in which the court ruled in favor of golfer Casey Martin, who suffered from a birth defect that prevented him from walking 18 holes and who wanted to use a golf cart in professional tournament play. Scalia wrote, "If one assumes, however, that the PGA TOUR has some legal obligation to play classic, Platonic golf…then we Justices must confront what is indeed an awesome responsibility. It has been rendered the solemn duty of the Supreme Court of the United States…to decide What Is Golf. I am sure that the Framers of the Constitution…fully expected that sooner or later the paths of golf and government, the law and the links, would once again cross, and that the judges of this august Court would some day have to wrestle with that age-old jurisprudential question, for which their years of study in the law have so well prepared them: Is someone riding around a golf course from shot to shot really a golfer? The answer, we learn, is yes. The Court ultimately concludes, and it will henceforth be the Law of the Land, that walking is not a 'fundamental' aspect of golf."
Sotomayor's writing rarely hits this sort of breezy cadence. Instead, she devotes the bulk of her legal analysis to quotes from statutes, regulations, and other opinions ad nauseam and seems unable to break away from the citations long enough to concisely synthesize the material before her. A good example might be her opinion in Engerty Corp. v. Riverkeeper, which questioned whether the Clean Water Act allows the Environmental Protection Agency (EPA) to use a cost-benefit analysis of technology available to reduce the impact of power plants on fish and other aquatic life. (The Supreme Court overturned Sotomayor's decision, which was in favor of the fish, in April.)
Her opinion in the case runs 80 pages; reading it might be good punishment for law students who show up late for class. Early on, she devotes nearly an entire page to quoting EPA rules that instruct power plants on how to comply with the Clean Water Act. And it takes her 2,500 words just to sum up the basis of the case. A layperson would be hard pressed to glean from the opinion that Riverkeeper is a significant environmental opinion that puts Sotomayor squarely in the green camp. She rules against power plants and in favor of preserving aquatic life at almost any cost, yet the opinion is remarkably passionless. For all President Obama's talk about appointing a justice with a sense of empathy, the Riverkeeper opinion suggests that what he appointed is a technocrat. The most quoted paragraph of Sotomayor's majority opinion is this one:
The Agency is therefore precluded from undertaking such cost-benefit analysis because the [best technology available] standard represents Congress's conclusion that the costs imposed on industry in adopting the best cooling water intake structure technology available (i.e., the best-performing technology that can be reasonably borne by the industry) are worth the benefits in reducing adverse environmental impacts.
It's hardly one for the ages. While the Riverkeeper opinion itself is a drag to read, it makes for an interesting point for comparison because Scalia wrote the Supreme Court opinion overturning her. His entire opinion runs only 4,800 words, including the footnotes dissing Justice Stephen Breyer for perceived weaknesses in his dissent. Scalia's opinion is also laden with the technical language endemic to these sorts of regulatory cases, but it manages to be clear and concise and, more important, convincing, because there's actually some original writing tucked in among all the references to section 316(b) and other regulations.
Sotomayor can be forgiven if her opinions don't jump off the page. She has spent her career on the 2nd Circuit, which, because its jurisdiction covers Wall Street, tends to have a disproportionate number of dull business cases that don't lend themselves to literary treatment. And bad writers are hardly unique in the legal world. The man Sotomayor will replace, Justice David Souter, has joked about his own turgid writing, suggesting that he takes the lucid opinions drafted by clerks and makes them worse. Law school seems to have a way of turning good writers into bad ones. In fact, Sotomayor's habit of quoting every last source at length in her opinions is a common tic of trial lawyers, which she was for a long time.
But writing has apparently plagued Sotomayor since college, when, the Wall Street Journal reports, she nearly flunked out of her first year at Princeton because her writing skills were so poor. She clearly had other talents, but her inability to write an opinion that anyone wants to read could prevent her from having a lasting influence on the Supreme Court and American law. The most brilliant jurists on the federal bench have often been those who can write well. The nine justices of the Supreme Court are supposed to be champions of the Constitution entrusted with preserving key individual rights. How they express their opinions can be as important as their conclusions.
Without better writing, Sotomayor runs the risk of emulating Clarence Thomas, who is probably the most conservative judge on the high court but also one of the least influential. After all, who quotes Thomas in term papers? His most significant influence on the court is getting the conservatives to five votes.
Perhaps Sotomayor's writing deficiencies wouldn't be so glaring if the competition for the job weren't so stiff. The woman she beat out for the nomination is a rock star of the written word. Diane Wood, a judge on the 7th Circuit Court of Appeals, was the woman on Obama's short list who had right-wing lawyers shaking in their boots. She's the one that Federalist Society members viewed—off the record, of course—as the left's answer to John Roberts. Wicked smart, Wood has spent the last 14 years battling some of the most brilliant conservative legal minds in the country—experience that would have served her well on the Supreme Court. As a law professor at the University of Chicago, she has written books and law review articles, and her legal opinions bristle with intelligence and fluency, with sources far beyond the law books.
Take her dissent in a 2008 case in which the 7th Circuit ruled against a Jewish family whose condo association kept taking down their mezuzah. Wood chastised the defendants for suggesting in legal filings that the family was trying to extract its "pound of flesh" from the condo board. She wrote, "Perhaps the defendants have not read Shakespeare's Merchant of Venice lately," noting that the "pound of flesh" expression was shockingly inappropriate for people trying to convince the court they weren't anti-Semites. She then provides a brief history of the character of Shylock, the bitter Jewish moneylender who is entitled to extract a pound of flesh from a debtor who fails to pay back his loan.
Compared with Wood's opinions, Sotomayor's definitely look second tier. And maybe that's okay. Souter created a lasting legacy on the court despite his tendency to "put some lead" in his copy. A good judge doesn't have to quote Shakespeare and write beautifully to make good law. But it does help.