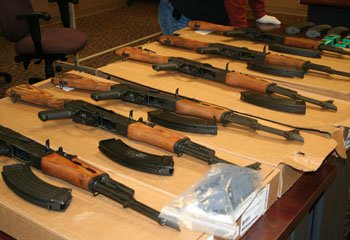 Guest blogger Mark Follman writes frequently about current affairs and culture at markfollman.com.
The raging drug war in Mexico is about to command even greater attention inside the United States. It's not just the gruesome tales of drug cartel violence to the south; the US is far more caught up in the maelstrom than many north of the border may care to realize.
Today at the White House, Homeland Security Sec. Janet Napolitano laid out an Obama administration plan to throw additional money and manpower at the problem, amid mounting fears about "spillover" of violence and corruption into the United States. On Wednesday, Napolitano will go to Capitol Hill specifically to address the crisis, while Secretary of State Hillary Clinton is scheduled to arrive in Mexico.
The administration is deploying big guns like Napolitano and Clinton with good reason. As the Wall Street Journal reported recently, "The government is girding for a possible Katrina-style disaster along the 2,000-mile-long Mexican border that would involve thousands of refugees flooding into the US to escape surging violence in northern Mexico, or gun battles beginning to routinely spill across the border." A recent story from international reporting start-up GlobalPost shows how joint US-Mexican operations have been implicated in the spreading violence, on both sides of the border.
Some relatively obscure testimony by senior officials from the ATF and DEA to a Senate subcommittee last week contains stark details about our country's role in the predicament. Simply put, the US is serving as a vast weapons depot for the drug gangs.
Because firearms are not readily available in Mexico, cash-wielding drug traffickers have gone north to obtain many thousands of them. According to the law enforcement leaders' testimony, 90 percent of traceable seized weapons have come from the United States. The ATF reports disrupting the flow of more than 12,800 guns to Mexico since 2004.
The weapons aren't just coming from the US border region. The law enforcement leaders cited a case from April 2008 in which 13 warring gang members were killed and five wounded: "ATF assisted Mexican authorities in tracing 60 firearms recovered at the crime scene in Tijuana," they said. "As a result, leads have been forward to ATF field divisions in Denver, Houston, Los Angeles, Philadelphia, Phoenix, San Francisco and Seattle."
Sources of the weapons, they said, "typically include secondary markets, such as gun shows and flea markets since—depending on State law—the private sale of firearms at those venues often does not require background checks prior to the sale or record keeping."
Military weapons are also a growing problem: "In the past six months we have noted a troubling increase in the number of grenades, which are illegal to possess and sell, seized from or used by drug traffickers, and we are concerned about the possibility of explosives-related violence spilling into U.S. border towns."
Given that the global war on drugs is a proven failure, there was another striking aspect of the testimony: The top revenue generator for the Mexican cartels isn't cocaine, heroin or other hard stuff. It's… marijuana.
Napolitano's message today included the assertion that the Obama administration is "renewing our commitment to reduce the demand for illegal drugs here at home." That comes on the heels of Attorney General Eric Holder's announcing that the federal government will no longer prosecute medical marijuana dispensaries in California and other states where they are legal under state law. With the prospect of a day trip to Ciudad Juarez looking increasingly like a visit to Kabul, and with the violence ricocheting northward, perhaps those who have been advocating fundamental changes in the nation's marijuana laws will start to see some political traction for their ideas.
Mark Follman is a journalist based in San Francisco. You can read more of his writing about current affairs and culture at markfollman.com.