Okay, after that brief foray into serious music (allegedly), we could use a bit of nutty internet video-style distraction. If you've ever wondered what hipster band a Muppet should cover, why strippers weren't more mechanical, how to mix 8,000 songs together with a thimble, or what walruses do in their spare time, click "continues."
Kermit the Frog – "New York I Love You" (LCD Soundsystem cover)
You know, this Simon Owens doesn't really get Kermit's nasally voice right, but even so, the very idea is worth four minutes of your time: the closing track on the New York band's Sound of Silver has a kind of Sesame Street simplicity about it, and Kermit's "It Ain't Easy Bein' Green" melancholy is a perfect fit for the track's disillusionment.
Pole-Dancing Robots at MuTate London Exhibit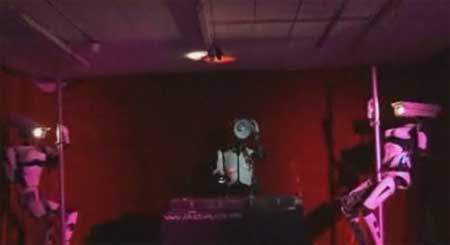 I can't seem to embed this, so go over to the BBC's web site to watch a bit of this piece at a London gallery that features "All Is Full of Love"-slash-I Robot-style automatons gyrating for your technosexual pleasure. They've even got a DJ!
ECC's Giganto Faux-Touchscreen Mashup Performance Screen System
From Mark Gunderson of the Evolution Control Committee (who probably have the most right of anybody to resent Girl Talk's success in a medium they really do a heck of a lot better, but he's actually just super nice and mellow about it all) comes a crazy mashup contraption incorporating a Nintendo Wii, a rear-projector, a thimble, and, um, an F-15 fighter jet. Not that last one. Either way, this guy is the MacGuyver of mashups.
Walrus "Plays" the Saxophone
And from the Huffington Post, it's, uh, a walrus taking a toy saxophone in his flippers, holding it to his mouth, and swaying back and forth ecstatically to recorded music for a few moments while his trainer does a really embarrassing dance behind him. What is Arianna smoking over there?