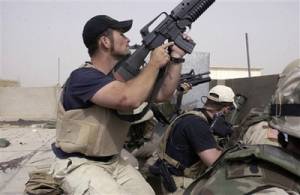 Since September 2007, when Blackwater operators opened fire in a Baghdad traffic circle, killing 17 Iraqi civilians and wounding 24 more, the Justice Department has been struggling to build a criminal case. The challenge is indeed unique: Blackwater employees in Iraq are, like all other foreign contractors in the country, immune to Iraqi law. (This now stands to change under the new "Status of Forces" agreement, which strips contractors of their legal shield.) Because the Blackwater shooters were operating under a State Department contract, they also fall outside the jurisdiction of the US Code of Military Justice, which applies only to military contractors. US criminal and civil law also has yet to catch up to the reality of armed US contractors operating in conflict areas, and the few provisions that do cover such work need further clarification. In essence, the Blackwater operators who opened fire that day fell through the legal and regulatory cracks, effectively rendering them immune to charges of murder.
Well, almost. News reports indicate that the Justice Department, as early as Monday, could charge between three and six Blackwater contractors for the September 2007 shootings under the Anti-Drug Abuse Act of 1988. The law calls for mandatory 30-year prison terms for the use of machine guns in violent crimes. The law was created in response to the crack epidemic of the 1980s, but can apparently be applied more broadly, or so federal prosecutors will argue.
But the very invocation of such a law lays bare the inadequacies of the system. The Justice Department has been probing the Blackwater shootings for over a year. Its investigators have interviewed dozens of witnesses—both in Iraq and the United States. A grand jury was called to examine the evidence and consider charges of assault and manslaughter. After all that, the best it can do is place its trust in the legally questionable application of an obscure drug law involving the use of machine guns? I suppose we should be thankful that Blackwater's armored vehicles were equipped with turret guns and that the guards themselves carried automatic weapons, for without them it seems entirely possible that the shooters would have escaped prosecution of any kind. (Then again, without such heavy weapons, victims would presumably have been fewer in number.)
And they may still do so. Among the remaining problems, Blackwater is alleged to have made repairs to the armored vehicles involved in the shootings before federal investigators could look them over, resulting in the loss of important forensic evidence that might have indicated whether the Blackwater contractors came under attack in the traffic circle (as Blackwater has claimed), or whether they opened fire without just cause. The State Department also granted the Blackwater contractors limited immunity in exchange for sworn statements about the shootings. Unless the Justice Department can make a compelling criminal argument independent of this testimony, its case remains very much in doubt.
Photo used under a Creative Commons license from abej2004.