Fight disinformation:
Sign up
for the free
Mother Jones Daily
newsletter and follow the news that matters.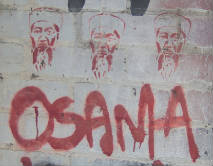 CIA Director Michael Hayden, speaking last night at an event organized by the Atlantic Council, said that Osama Bin Laden is increasingly "isolated" and on the run. "He's putting a lot of energy into his own survival, a lot of energy into his own security," said Hayden. "In fact, he appears to be largely isolated from the day-to-day operations of the organization he nominally leads." All that said, he's still an attractive target, largely for the propaganda value of putting him out of business. "Because of his iconic stature, his death or capture clealry would have a significant impact on the confidence of his followers, both core Al Qaeda and these unaffiliated extremists," Hayden continued. "I can assure you, although there has been press speculation to the contrary, I can assure you that the hunt for Bin Laden is very much at the top of the CIA's priority list."
It's also at the top of the incoming Obama administration's list. The president-elect believes that his predecessor has not done enough to capture or kill the Al Qaeda leader. But turning things around will not be easy. As former CIA Pakistan station chief Robert Grenier told CNN, "If you think of this as sort of a combination of [the hunt for] Eric Rudolph, who was the Olympic bomber, and the movie 'Deliverance,' multiplied by a factor of 10, that's really what you're focusing on in trying to find bin Laden… What you literally need to have is an army of individual informants, hopefully focused on the areas that you think bin Laden is most likely to be hiding in. But again, you need to have a whole lot of them, because one individual who may have access to the families and the clans in a particular valley, if he goes to the valley next door and starts asking questions, he's probably gonna end up dead pretty quickly."

Photo by flickr user Toots Fontaine used under a Creative Commons license.