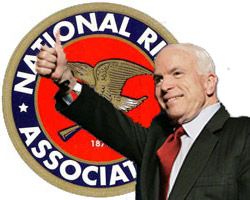 Opinions change in Washington. Before the National Rifle Association loved John McCain — it favored McCain with its endorsement Thursday — it had some very sharp disagreements with the Arizona Senator. In 2000, McCain said of the gun lobby, "I don't think they help the Republican Party at all." A year later, the NRA shot back by calling McCain "one of the premier flag carriers for the enemies of the Second Amendment."
There were two reason for the NRA's hostility toward McCain: campaign finance and a bill McCain co-sponsored with Joe Lieberman to close the so-called "gun show loophole." The NRA put McCain on the cover of its newsletter, called "America's 1st Freedom," in July 2001. Next to him were the words, "John McCain, What Are You Thinking?" An article inside explains that earlier that year McCain and Lieberman had teamed up to champion legislation to eliminate the loophole, which the Brady Campaign to Prevent Gun Violence explains this way:
Under federal law, anyone who wants to engage in the business of selling firearms must obtain a federal firearms license. The Brady Law requires that when a federal firearms licensee (FFL) wants to sell a firearm, they must contact the Federal Bureau of Investigation's National Instant Criminal Background Check System (NICS) to ensure that the purchaser is not prohibited from possessing firearms. FFLs must comply with these laws whether they are selling firearms from a gun store or at a gun show.
The Brady Law, however, does not apply to the sale of firearms by non-licensees. Every year, there are thousands of gun sales without background checks by vendors claiming not to need a federal license because they are merely selling from their "personal collection" of guns. Many of these sales take place at gun shows and the problem has become known as the "gun show loophole."
The NRA's Political Victory Fund rated the McCain-Lieberman bill an "F." The proposed law, said the NRA's article, was "jeopardizing the freedom of law-abiding gun owners." It argues that McCain's motives in joining with Americans for Gun Safety (AGS) and other gun control groups were phony. "John McCain has recently become a prominent Washington champion of more federal gun legislation in large part because AGS has heavily publicized McCain," wrote the NRA. "AGS is doing everything it can to keep McCain in the news."
The same article slammed McCain for advocating campaign finance laws that would limit the influence and money of powerful independent groups like the NRA. "Future battles fighting government gun grabs will become far more difficult if McCain's campaign finance reform bill becomes law," the NRA wrote. The reason was limitations the Bipartisan Campaign Reform Act, aka McCain-Feingold, placed on something called "electioneering communication." McCain-Feingold defines that as:
Any broadcast, cable, or satellite communication which–
(I) refers to a clearly identified candidate or Federal office;
(II) is made within–
(aa) 60 days before a general, special, or runoff election for the office sought by the candidate; or
(bb) 30 days before a primary or preference election, or a convention or caucus of a political party that has authority to nominate a candidate, for the office sought by the candidate; and
(III) in the case of a communication which refers to a candidate for an office other than President or Vice President, is targeted to the relevant electorate.
These limitations, the NRA wrote, "could effectively prohibit the NRA from even mentioning in a public mailing which candidate it supports or opposes." (Ironically, the Supreme Court has since weakened this key element of McCain-Feingold and the NRA has used the opportunity to launch discredited attacks against McCain's opponent, Barack Obama.) The NRA also accused McCain of hypocrisy, saying that financed his campaign to cleanse Washington of soft money by using plenty of his own.
The NRA contentious relationship existed before and after this one newsletter. In 2000, McCain told CNN, "The NRA is entitled to their advocacy. I don't think they help the Republican Party at all. But I don't they should in any way play a major role in the Republican Party's policymaking." In February 2002, "America's 1st Freedom" took after McCain again, titling another article on the gun show loophole, "What Doesn't John McCain Want You to Know?" In it, the NRA accused McCain and AGS of using "deceit" to "restrict the rights of law-abiding citizens." The executive director of the NRA Institute for Legislative Action called McCain's bill a "cynical attack on our rights." Similar attacks were launched in an article in the September 2002 issue of the NRA newsletter. That issue morphed McCain and Lieberman together and called them "two-faced."
Today, McCain and the NRA have made nice. In 2007, McCain said, "I strongly support the Second Amendment and I believe the Second Amendment ought to be preserved — which means no gun control." He addressed the NRA's annual convention earlier this year and said:
"For more than two decades, I've opposed efforts to ban guns, ban ammunition, ban magazines and dismiss gun owners as some kind of fringe group unwelcome in modern America. The Second Amendment isn't some archaic custom that matters only to rural Americans, who find solace in firearms out of frustration with their economic circumstances. The Second Amendment is unique in the world. It guarantees an individual right to keep and bear arms. To argue anything else is to reject the clear meaning of our founding fathers."
The relationship between McCain and the NRA has become so cozy that one registered NRA lobbyist, Wayne Berman, serves as a co-chair of McCain's national finance committee and another, James Jay Baker, heads the National Steering Committee of Sportsmen for McCain. (The dual roles appear to be in violation of the internal McCain campaign ethics policy, a fact which has gone unaddressed. Additionally, Baker controlled the NRA's political arm when Mary Lou Sapone was infiltrating gun control groups on its behalf.)
McCain's willingness to genuflect at the NRA's altar clearly worked. Thursday, the NRA endorsed McCain and promised an advertising campaign on his behalf worth "eight figures." If McCain is elected president with the NRA's help, we'll see if the gun group plays "a major role in the Republican Party's policymaking."