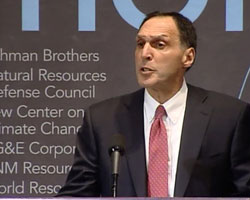 Fight disinformation:
Sign up
for the free
Mother Jones Daily
newsletter and follow the news that matters.
In the corporate world, Richard Fuld Jr., the 62-year-old chief executive of bankrupt investment bank Lehman Brothers, was known as "the gorilla" for his imposing presence and pugilistic style. As one of Congress' most feared inquisitors, Rep. Henry Waxman (D-Calif.) has his own talent for making people squirm in their seats. When the two came face to face on Monday, for a hearing on Lehman's sudden mid-September demise, there was some expectation that the proceedings could turn combative.
Though Waxman lived up to his populist firebrand reputation, it was a subdued and (to an extent) contrite Fuld who testified before the House Committee on Oversight and Government Reform—not the aggressive executive who once brawled with another parent at his son's hockey game. "I want to be very clear I take full responsibility for the decisions that I made and for the actions that I took," Fuld began. "Based on the information I had at the time I believe that these decisions were both prudent and appropriate. With the benefit of hindsight, would I have done things differently? Yes, I would have. I feel horrible about what's happened to the company and its effects on so many."
But even while assuming responsibility, Fuld cast his firm—and by extension himself—as the victim of a "tsunami" of unprecedented market forces, uncooperative regulators, rampant "false rumors, and, ultimately, a crisis of confidence.
"We did everything we could to protect the firm," Fuld told the committee in prepared remarks. "We raised capital. We made changes to our senior management team and reduced expenses. We sought strategic investors for a sale of all or part of the firm. We called on regulators to clamp down on abusive short selling practices." He added, "In the end, despite all of our efforts, we were overwhelmed."
Waxman, though, wasn't having any of this. Convening the first of five scheduled hearings on the financial industry meltdown, he painted the 158-year-old investment bank and its CEO as the perpetrators, not victims, of the market volatility. "While Mr. Fuld and other Lehman executives were getting rich, they were steering Lehman Brothers and our economy towards a precipice," Waxman said, adding that the firm's collapse may have "triggered the credit freeze that is choking our economy" and led to the $700 billion bailout package approved by Congress last week. Lehman Brothers, he said, was "a company in which there was no accountability for failure."
Underscoring his point are a number of internal Lehman documents that the firm handed over to the committee, which in turn provided them to the press. One of them is a June 3, 2008, email from executives at Neuberger Berman, Lehman's money management subsidiary, recommending that "top management should forgo bonuses this year. This would serve a dual purpose. Firstly, it would represent a significant expense reduction. Secondly, when the 'world' discovers this in next year's proxy, it would send a strong message to both employees and investors that management is not shirking accountability for recent performance."
This suggestion received a prompt response from George H. Walker, President George W. Bush's cousin, who was a member of Lehman's executive committee. "I am not sure what's in the water at 605 Third Avenue…"—where Neuberger is headquartered. He continued, directing his comments to Lehman executives cc'd on the original message: "I'm embarrassed and I apologize." He described the "compensation issue" as one that was "hardly worth the EC's [executive committee's] time."
Later that day, Fuld weighed in. "Don't worry—they are only people who think about their pockets," he wrote, apparently referring to the Neuberger execs.
Attempting to illustrate Lehman's profligate ways, congressional Democrats also highlighted a memo sent by the firm's human resources manager days before Lehman filed for bankruptcy. Directed to the Lehman board members who served on the company's compensation committee, the memo recommended that three departing executives receive "special payments" totaling more than $23 million. (Two of the three executives under consideration for these multimillion-dollar payouts had been fired, including Andy Morton, the one-time head of Lehman's Global Fixed Income division.) "In other words," Waxman said, "even as Mr. Fuld was pleading with Secretary Paulson for a federal rescue, Lehman continued to squander millions on executive compensation."
From 2004 to 2007, as Lehman posted record-breaking profits, the firm paid out more than $16 billion in bonuses. Since 2000, Fuld received nearly a half-billion dollars in compensation, according to the oversight committee. Fuld disputed the committee's figure, but acknowledged it was "still a large number." Perhaps vying for a bit of sympathy, Fuld told the panel that "no one had more incentive to see Lehman Brothers succeed" than he did, pointing out that he had owned some 10 million shares of Lehman stock, now essentially worthless, when the company went under. "I believed in this company," he said.
Even as investors had begun to lose confidence in Lehman's financial position, sending the firm's stock value tumbling, Fuld and other Lehman executives expressed optimism about the company's prospects. "Our capital and liquidity positions have never been stronger," Fuld told investors during a June conference call. As recently as September 10, Lehman's chief financial officer told investors, "Our capital position at the moment is strong."
"If you're Richard Fuld, how do you lose all common sense?" asked Rep. John Sarbanes (D-Md.). Answering his own question, Sarbanes suggested that Fuld had either been woefully out of touch with his firm's financial health—or was attempting to "deceive" shareholders. For his part, Fuld acknowledged that "with the benefit of hindsight, I can now say that I and many others"—including Treasury Secretary Henry Paulson and Fed Chairman Ben Bernanke, he was quick to point out—"were wrong." But he insisted that he and other Lehman executives "did not mislead our investors…We made disclosures that we believed were accurate."
Damaging Fuld's claims that Lehman was simply caught unaware by a financial maelstrom is a confidential company analysis, drafted in 2008, that notes that the company "saw warning signs" but "did not move early/fast enough." The analysis also states that Lehman did not exercise "enough discipline about capital allocation." According to the Wall Street Journal, the FBI is probing whether Lehman executives misrepresented the firm's financial position to investors.
To the Republican members of the oversight committee, who bickered with Waxman throughout the hearing, Fuld was not the only Gorilla in the room. Reps. John Mica (R-Fla.) and Christopher Shays (R-Conn.) questioned why Waxman had chosen to focus on Lehman Brothers, rather than Fannie Mae and Freddie Mac, "the government-sponsored enterprises," or GSE's, which Republicans say have been at the center of the mortgage crisis. "I believe there's a cover-up going on and I'd like to make a statement," a flustered Shays said at the start of the hearing, before being gaveled down by Waxman. He later remarked, "We are not confronting the 800-pound gorilla in the room. We are not confronting Fannie Mae and Freddie Mac. When it comes to Fannie and Freddie, lobbyists manipulated legislators on both sides of the aisle…Why are we looking at everyone else except for Congress?" Addressing Fuld, Mica chimed in, "If you haven't discovered your role, you're the villain. You have to act like the villain."
But Fuld didn't quite play the part of villain or scapegoat. He told the committee, "I can look at you and say, 'This is a pain that will stay with me the rest of my life, regardless of what comes out of this committee, and regardless of what the record book will say when it's finally written.'" In the end, he seemed as baffled and distraught by the economic crisis as anyone else. After earning hundreds of millions of dollars as a top investment bank executive, he could not say exactly what had gone wrong or why no one had seen it coming until it was too late. He was vague on what to do next. Coming from Fuld, once one of the crown princes of Wall Street, this was as revealing as it was frightening.
Photo of Lehman Brothers CEO Richard Fuld Jr. in happier days from flickr user wricontest used under a Creative Commons license.