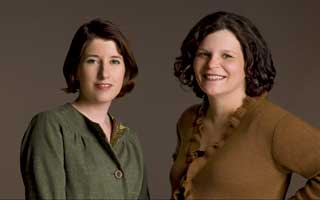 believe it or not, Herbert Hoover was not such a bad president. Unlike the present occupant of the Oval Office, this Republican was an actual success both in business and in politics. He canceled private oil leases on public lands, withdrew US troops from ill-advised occupations overseas, appointed a card-carrying Democrat to the Supreme Court (because, he said, the court "should have a strong minority of the opposition's party"), advocated for an early version of Social Security, and picked a Native American as his running mate (Charles Curtis, also the last VP to wear a mustache while in office). Yes, he fiddled as Wall Street—then so unregulated it would have made the securitized-mortgage whiz kids giddy—burned. And his conservatism failed the compassion test when he insisted that there was nothing to the Depression that philanthropy couldn't fix. But as any economist will tell you, few presidents have really made a difference on the big, underlying trends in the economy. (Sorry, Bill Clinton.)
George W. Bush, on the other hand, is likely to go down in history as one of the few presidents who failed on every conceivable front. Future chroniclers will no doubt uncover malfeasance beyond what we can even now imagine, but as it stands, it's hard to think of a single admirable, or merely adequate, thing this administration has done. (Okay, one: Bush could be called many names, but "bigot" is not one of them. His Cabinet looked a lot more like America than any Democrat's ever has; without Powell and Rice, the Obama candidacy might not have been possible.) Even aside from the war, detention, and torture, there are innumerable ways in which Bush has left us worse off and less safe. Some are detailed in this issue, along with their relatively easy fixes. (Reverse the emasculation of the epa, fda, nasa, etc.? Done—as soon as you kick out the cronies and ideologues who have hog-tied the actual scientists.)
But even quick cures require political will and civic energy. In the past, America has shown plenty of both in bouncing back from bad presidencies, both the craven pretty-face variety (cf. Warren Harding) and the brilliant-but-corrupt one (Nixon, most memorably). This time, the damage seems deeper, in part—and this may be George W. Bush's most pernicious legacy—because of the cynicism the W years have engendered. Large percentages of us now have no trouble believing that our ballots don't count, and that Washington is so completely in the pocket of corporate interests that no amount of mobilization can change its foregone conclusions. Can such a nation pull together to craft a new vision—one that would right the injustices, both legal and economic, of the past eight years? Do we even want to, or would we be satisfied to stop being embarrassed about our president?
This is worth serious consideration. If we now settle for governance as ineffective as it is invasive, then Bush & Co. will have succeeded in "drowning the government in the bathtub"; even without Karl Rove's permanent majority, they will have created a state that uses its power to snoop and wage war, not to serve and protect. Already, we expect so much less of our leaders in terms of insight, integrity, even basic rhetorical skill; that's one reason why, when an orator like Barack Obama comes around, we're literally swept off our feet. Like someone recovering from an abusive relationship, we've forgotten what it feels like to not be treated like dirt.
It's true that Obama has tapped into a wellspring of hope—some of it for easy racial absolution, much of it deeper. But whether that hope can translate into real momentum is an open question. Obama himself doesn't have a history of pushing for profound change; his celebrated anti-war stance looks a little less bold when you remember that he first took it as a state senator with nothing to lose. If he wins in November, will he take that vote as a mandate for something bolder than politics as usual? Will his call to bipartisanship get us beyond easy "compromise" such as his sorry vote on telecom immunity? Herbert Hoover nearly tripled taxes on the wealthy. So far, the most any mainstream Democrat has offered is to roll back the disgraceful Bush tax cuts. Is that the best we can do?
There is, of course, one thing we'll miss about George W. Bush: The endless material—and, let's admit it, the creative way with the facts. Wouldn't it be nice if we could all "create our own reality" sometimes?
It is in that spirit—as an homage to fuzzy math, if you will—that we proudly declare this our 250th issue. Okay, if you were to stack them all up you'd find 251 (we put out a bonus issue in 2006), but what's a 0.4 percent difference? On November 5, we go back to a reality-based world. Until then, let us join the Decider in saying, "Look, I don't care about the numbers. I know the facts."