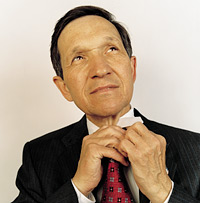 Deep-pocketed Dennis Kucinish is a man with a plan…
Former Democratic presidential candidate Dennis J. Kucinich has proposed a plan to seat delegations from Florida and Michigan at the Democratic National Convention based on the results of a fresh round of polling in the two states…
The plan would base the distribution of delegates on polling conducted by three firms, one selected by each campaign and a third chosen by the other two companies. Delegates would be apportioned based on the composite findings of the three polls. None of the firms could have previously been employed by either campaign.
Democrats are at a point now where even an ad hoc plan like having polling substitute for actual voting sounds reasonable. But you know what would probably be a better solution? If Dennis Kucinich, who is a superdelegate, actually endorsed somebody and then got all the other superdelegates to endorse somebody, too. Because after one of the two candidates gets the requisite number of delegates for the nomination, he or she can seat the Michigan and Florida delegates in a way that doesn't change the outcome of the race. And if that happened, oh, two months ago, that would be awesome.
Update: Another potential solution here.