Fight disinformation:
Sign up
for the free
Mother Jones Daily
newsletter and follow the news that matters.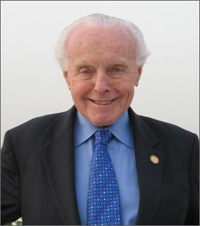 Congressional Republicans, specifically Lincoln Diaz-Balart of Florida, just interrupted the memorial service of recently deceased Congressman Tom Lantos.
At 11:05 am this morning, Diaz-Balart offered a motion to adjourn, which, if passed, would have ended the House's legislative day. It appears the intent was to keep the House from debating contempt citations for former White House Counsel Harriet Miers and White House Chief of Staff Josh Bolten, which were on the agenda. According to the Congressional Research Service, "A motion to adjourn is of the highest privilege, takes precedence over all other motions, is not debatable, and must be put to an immediate vote." That means that the members of the House had to leave the Lantos memorial where they were paying their respects to vote on the House floor, for nothing more important than to keep the day's business open.
The memorial service began at 10:00 am in Statuary Hall, which is an old House chamber in the Capitol. Speakers included Lantos' relatives, Bono, and Elie Wiesel. Diaz-Balart's vote was called during Joe Biden's tribute to Lantos.
It was purely obstructionist move by Diaz-Balart, made all the more crass and classless because it was used to disrupt the services of a widely admired public servant who was Congress's only Holocaust survivor. Accusations are flying back and forth about the matter. Incidentally, the motion to adjourn failed and debate of the contempt citations is currently underway.
Video after the jump.