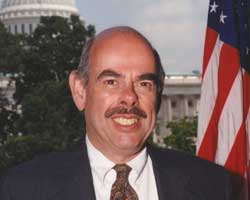 Since as early as 2004, the National Archives has warned the White House that its system for preserving email records was inadequate—and that some of those emails may not have been archived at all, but the Bush administration has been slow to remedy the problem. "I am concerned about the loss of emails," the nation's chief archivist, Allen Weinstein, told Congress on Tuesday. "I'm concerned about maintaining the fullest possible White House records."
In conjunction with its first hearing regarding missing White House emails—perhaps as many as 5 million of them—the House Committee on Oversight and Government Reform released documents that suggest the White House failed to address serious record-keeping problems identified by its own staff and was largely unresponsive to the concerns of the National Archives.
On January 6, 2004, staffers from the National Archives met with White House officials to discuss the administration's plans to build an electronic-record keeping system for preserving presidential documents, warning that the administration was then "operating at risk by not capturing and storing messages outside the email system," according to a summary of the meeting. At the time, the Bush White House had scrapped the Clinton administration's record-keeping system, known as ARMS, in favor of building its own. But by 2006 this project, known as the Electronic Communications Records Management System (or ECRMS) had been canceled—and no substitute was proposed in its place.
In February 2006, officials at the National Archives again raised their concerns with the White House, which were prompted this time by news reports indicating that Patrick Fitzgerald, the special prosecutor in the CIA leak case, had discovered gaps in White House email records that were potentially relevant to his investigation. In response to the National Archives' query, the White House, without alerting the agency to any archiving problems, responded that it believed the missing emails could be accounted for. Two years later those emails have yet to materialize—and the extent of the problem with the White House archiving system is only beginning to come into focus.
Last March, it was revealed that White House officials, including Karl Rove and Andrew Card, had been using Blackberry's and email accounts issued by the Republican National Committee, a practice that potentially allowed administration officials to skirt the archiving function of the White House servers. That April, the Washington-based watchdog group Citizens for Responsibility and Ethics in Washington reported that millions of White House emails, spanning crucial time periods between 2003 and 2005, were also potentially unaccounted for.
Since last summer, CREW and another nonprofit watchdog group, the National Security Archive, have battled the White House in court to get the administration to correct the problem and restore any missing emails. But so far the White House has yet to acknowledge definitively whether a problem even exists—and has issued a series of contradictory claims. Briefing the press last April, Dana Perino, now the White House Press Secretary, said, "I wouldn't rule out that there were a potential 5 million emails lost." But by last month the White House had changed its tune. "From everything that we can tell, our analysis of our back-up systems, we just—we have no reason to believe that any email, at all, are missing," White House spokesman Tony Fratto said in January.
According to the records released by the House oversight committee on Tuesday, the White House has been aware of significant problems with its email storage system since 2005, when members of the White House technical staff reported that the system was "prone to failure" and that "searches of email in response to statutory requirements may not be complete, creating legal and political risk." Further analysis by a team of 15 White House staffers in 2005 found at least 400 days when no emails to or from the Executive Office of the President had been preserved, and another 300 when the volume of email traffic was suspiciously low. Around that time, the technical team discovered another, and potentially more serious, flaw in the system. In written comments to the oversight committee, Steven McDevitt, who served as a senior official in the office of the White House Chief Information Officer until 2006 and supervised the analysis of the missing emails, said that a "critical security issue" was identified in 2005 allowing anyone on the White House network to access, modify, and potentially erase email records. In light of this, McDevitt told the committee, there's "no verification that the data retained has not been modified." Further, according to McDevitt, "the process by which email was being collected and retained was primitive and the risk that data would be lost was high."
In May 2007, the National Archives once more asked the White House to address its email retention problem. "It is essential that the White House move with the utmost dispatch both in assessing any problems that may exist with preserving emails… and in taking whatever action may be necessary to restore any missing emails," Weinstein, the Archivist of the United States, wrote to White House counsel Fred Fielding. But those "repeated requests," according to a September memo authored by National Archives' General Counsel Gary Stern, "have gone unheeded…. Of most importance, we still know virtually nothing about the status of the alleged missing White House emails."
While the White House has be slow to remedy any flaws with its internal network, it has also failed to recover thousands of emails sent by administration officials using RNC email addresses. As of Monday, according to oversight committee chairman Rep. Henry Waxman (D-Calif.), the White House had yet to request email back-up tapes from the RNC, let alone begin the time-consuming (and costly) process of recovering data from them.
Of late, the administration has even begun to dispute the accuracy of its own internal analysis that found hundreds of days of unarchived emails. Testifying before the oversight committee, Theresa Payton, who has served as the White House's chief information officer since 2006, said her team had come "to have reservations about the tool used to create" the analysis, and is currently working on a process to "reinventory" existing email records and analyze "potential anomalies." The Republican members of the oversight committee also took issue with 2005 analysis, circulating a memo to reporters calling it "demonstrably flawed" and accusing the majority of perpetuating a "habit of overstating and distorting limited evidence to leap to spurious, if newsworthy, conclusions." (Likewise, a Republican committee aide told me before the hearing began that claims about missing emails were vastly "overblown.")
Rep. Darrell Issa (R-Calif.), for his part, wondered if the committee was going on a "fishing expedition" and portrayed Waxman's investigation as a potential invasion of privacy. "You have no mandate to go Peeping Tom into every piece of information," he said at one point.
But it was not so long ago that committee Republicans were crying foul over another batch of missing presidential emails. In March 2000, the House oversight committee, then chaired by Rep. Dan Burton (R-Ind.), launched a series of five hearings into what congressional Republicans believed was nothing short of a cover-up involving two-and-a-half years worth of incoming emails that were not logged by the White House. As a result, Republicans contended, not all of the relevant White House documents had been searched in response to a variety of subpoenas, seeking information on issues ranging from illegal fundraising to the president's pardoning members of a Puerto Rican nationalist group. "Complying with subpoenas is not optional, it's mandatory," Burton said during the first of the hearings. Back then, it was Waxman, then the committee's ranking Democratic member, who came to the Clinton administration's defense. Noting that the White House had provided Congress with at least 7,000 emails, some of them potentially embarrassing, he said during one hearing that "the production of those e-mails would seemingly put to rest the question that the White House was trying to keep damaging information from the Congress."
What a difference a change in administration—and Congress—makes. On Tuesday, Republicans on the oversight committee found themselves in almost exactly the same position their Democratic colleagues did in 2000. The irony was not lost on John Mica (R-Fla.), who also served on the committee during the Clinton email hearings. "It's interesting how what comes around goes around," he remarked. "It's interesting how it all comes around full circle."