Let our journalists help you make sense of the noise: Subscribe to the
Mother Jones Daily
newsletter and get a recap of news that matters.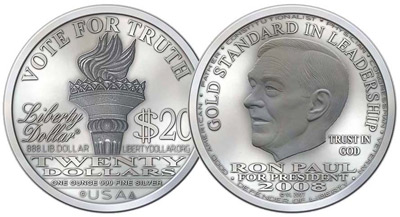 Ed. Note: Earlier this month, the people behind something called the "Liberty Dollar" saw their offices raided by the FBI. The Liberty Dollar bills itself as a "private voluntary barter currency," which I assumed was code for a libertarian scheme designed to bring about the downfall of the Federal Reserve, in the spirit of the fiercely anti-Fed libertarian demigod Ron Paul. (The Liberty Dollar folks have a coin with Ron Paul on it.) I reached out to a libertarian friend who writes the blog The Agnoptimists to get some hard answers. His thoughts are below. —JS
As a libertarian, I like to argue with opponents of my free market views by focusing on outcomes: simply put, the central question is whether centralized government programs are really more attractive than market outcomes.
Anyone who seeks the best solutions to society's dilemmas should embrace experiments that allow direct comparison between government projects and private enterprise. The U.S. Post Office is constantly improving its service due to competition from companies like FedEx and UPS, for example.
The Federal Reserve is a favorite target for libertarian critique, and with good reason. There is no inherent value backing the U.S. dollar; instead, a small group of powerful individuals unilaterally and undemocratically controls our nation's money supply. They are free to redistribute wealth from savers to borrowers, which they do incrementally but consistently by creating new money, and their inability to manage interest rates perfectly is at least partially responsible for the economically destructive boom/bust business cycle and the current housing crisis. Worst of all, U.S. citizens are forced to accept the U.S. dollar—the term "legal tender" means that people cannot refuse the dollar even if inflation renders it worthless. Alan Greenspan was famously skeptical of this deeply flawed system, and Americans should not be content.
The Liberty Dollar is one of perhaps 60 alternative currencies that represent a first step toward providing Americans with an option other than the current system. Most are used in small communities and intended only as supplements to the U.S. dollar, but the Liberty Dollar's creators are more ambitious. The Liberty Dollar, which boasts 20 million units in circulation, is meant to compete with the U.S. dollar on its strengths as a stable, easily identifiable, and difficult to counterfeit store of value. The company, which is run on a for-profit basis, promises to redeem its currency for gold and silver at any time, and the integrity of its systems is monitored by an independent auditor. The costs of the experiment are born exclusively by the buyers of Liberty Dollars, who continue to also pay for the Federal Reserve and U.S. Mint through taxes. Merchants are and will always be free to reject the new money, of course.
But success has been hard to come by. Last year, the government warned the public that the use of Liberty Dollars could earn a five-year prison term. On November 14th, FBI agents raided the Liberty Dollar offices, seizing gold and silver, manufacturing equipment, and customer records. The news received little coverage, and the idea of an alternative currency was quickly dismissed as a fringe movement. What the pundits fail to understand, however, is that the prohibition of completely voluntary and privately funded monetary experimentation dooms Americans to live with an unsatisfactory status quo. The government's actions in this case demonstrate the danger of overly centralized authority, and the public's complacency is worrisome. Everyone should agree that government hurts the public by prohibiting others from providing a better service than its own, but Ron Paul is the only prominent politician willing to address this critical issue.
— Nathan Labenz