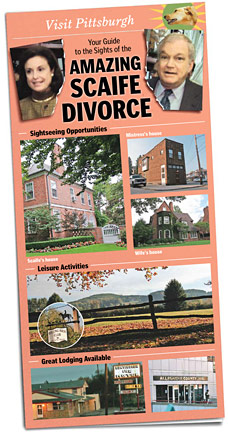 As Jonathan notes below, the Clintons seem to have won over Richard Mellon Scaife. That's right, Scaife, he of the "vast right-wing conspiracy," the man who funded the American Spectator and the Pittsburgh Tribune-Review, among other publications and entites, to go after Bill and Hill with a zeal not seen since the Comstock days, is now saying Clinton is "very laudable" and, through his latest media mouthpiece Newsmax.com, is moreover "a political and cultural powerhouse" who is "part Merlin and part Midas—a politician with a magical touch." In reporting on this strange turn of events, Newsweek's Michael Isikoff (who broke the Monicagate story) can only throw his hands up and say "cue the apocalypse."
Well, I don't really have any idea either, but it's perhaps worth noting that Scaife is going through a particularly tawdry divorce, one that was hilariously detailed by the Washington Post's David Segal back in October. It is more than worth reading in full—this accompanying illustration gives you a sense of Segal's itinerary of a divorce/travelogue device, but just to get you to follow the link…
[Scaife] is best known for funding efforts to smear then-President Bill Clinton, but more quietly he's given in excess of $300 million to right-leaning activists, watchdogs and think tanks. Atop his list of favorite donees: the family-values-focused Heritage Foundation, which has published papers with titles such as "Restoring a Culture of Marriage."
The culture of his own marriage is apparently past restoring. With the legal fight still in the weigh-in phase, the story of Scaife v. Scaife already includes a dog-snatching, an assault, a night in jail and that divorce court perennial, allegations of adultery.
Oh, and there's the money. Three words, people.
No. Pre. Nup.
Unfathomable but true, when Scaife (rhymes with safe) married his second wife, Margaret "Ritchie" Scaife, in 1991, he neglected to wall off a fortune that Forbes recently valued at $1.3 billion. This, to understate matters, is likely going to cost him, big time. As part of a temporary settlement, 60-year-old Ritchie Scaife is currently cashing an alimony check that at first glance will look like a typo: $725,000 a month. Or about $24,000 a day, seven days a week. As Richard Scaife's exasperated lawyers put it in a filing, "The temporary order produces an amount so large that just the income from it, invested at 5 percent, is greater each year than the salary of the President of the United States."
But wait, there's more:
At some point in late 2005, Ritchie started having suspicions about her husband and hired a private investigator named Keith Scannell, a specialist in high-end surveillance for insurance companies. In December of that year, Scannell followed Richard Scaife to nearby North Huntingdon, home of Doug's Motel, a place where the TVs are bolted to the furniture and rooms can be rented in three-hour increments, for $28. (It's now under new management and renamed the Huntingdon Inn. Head east on Route 8, then east on Route 30.) There, according to Scannell, Scaife spent a few hours with Tammy Sue Vasco.
Why a billionaire would shack up at Doug's Motel, of all places, is a mystery. Ditto his choice of companions. Vasco is a tall, blond 43-year-old mother who in 1993 was busted in a sting operation after showing up at a Sheraton hotel and offering to have sex with an undercover cop for $225, the Post-Gazette reported.
Now could it be that the reason Scaife has formed a "mutual admiration society" with Bill Clinton because he now sees Monicagate through different eyes? As for Bill, his spokesperson has said of the new friendship: "President Clinton believes in redemption and moving forward." Yes, and money talks.