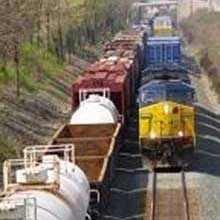 America's railways present a virtually endless series of possibilities for a terrorist hoping to kill thousands of people. Even though train bombings in London, Madrid, and Mumbai have brought more attention to this risk, policing the nation's 160,000 miles of tracks is a near impossibility. The best that can be done for passenger trains are random passenger ID checks, the odd appearance of a cop onboard, and the surveillance of tracks and other railroad infrastructure. In its own risk assessment, the federal government has made clear that rail travelers should keep their fingers crossed. "A commercial airliner has the capacity to kill 3,000 people," Homeland Security secretary Michael Chertoff has told reporters. "A bomb in a subway car may kill 30 people. When you start to think about your priorities, you're going to think about making sure you don't have a catastrophic event first."
Yet passenger trains are in fact the least dangerous potential target on our rails. Often running along the same rail corridors are freight tracks carrying chemicals and other hazardous materials. "In my thinking," says P.J. Crowley, the director of homeland security at the Center for American Progress, "freight rail, for all intents and purposes, is an element of chemical security. You can't separate the two."
Long lines of freight cars filled with hazardous materials often sit on sidings for days in populated areas, making choice targets. Environmentalists have sought to require that deadly chemicals not be transported through urban areas, and the 9/11 Improving America's Security Act passed in July requires the Department of Transportation to consider rerouting "security sensitive materials." The chemical industry fought the legislation, as did the Bush administration. The District of Columbia is currently engaged in a court battle against the industry to win legal approval for rerouting chemical cars around the nation's capital.
Rerouting freight trains is not a simple matter, however, since chemicals are often produced in urban areas and shipped to other cities, where they are needed for water purification and other critical uses. The Department of Transportation has nine months to come up with rules implementing this section of the law. Rulemaking can take months, and the powerful chemical industry can wield its influence at this stage as well. It remains to be seen what actually happens. Even so, environmentalists view the recent legislation as a victory. "This new law could eliminate unnecessary risks to large urban areas where millions of people now live in the shadow of deadly shipments of poison gas like chlorine," according to Rick Hind, who headed Greenpeace's campaign for tougher regulations.
Rail freight is not the only issue involving chemicals and terrorism. There are also 15,000 hazardous-chemical facilities in the United States. The Environmental Protection Agency has identified chemical facilities processes for making chlorine, ammonia, hydrogen fluoride, and sulfur dioxide as potential targets for terrorists. Former White House deputy homeland security adviser Richard Falkenrath told the Senate in 2005 that these chemicals pose "the single greatest danger of a potential terrorist attack in our country today." However, it is unclear what the impact of such an attack would be. The EPA estimates that there are 123 plants where an accident or attack could affect more than 1 million people. This does not take into account an attack's economic effects, such as, say, the disruption in the supply of chlorine, a basic ingredient in many of today's chemical products.
The Center for American Progress' Crowley argues that the best strategy over the long term involves substituting less harmful chemicals for the more dangerous ones. For example, soon after 9/11, Washington, D.C.'s wastewater facility switched from using chlorine to a safer, alternative process. However, environmentalists have sought to get rid of chlorine for years with no success. The chemical is so crucial to industry that suggesting a curb on its use has little political support.
Tomorrow: The hidden risks to our nation's ports.