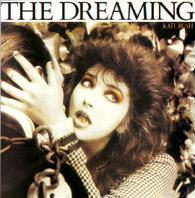 Could we be witnessing an unlikely resurgence of interest in Kate Bush? Two pieces of evidence: one, on a recent trip to local record emporium Amoeba, I bought a CD copy of The Dreaming (to replace a warped vinyl copy, in order to write this piece) and the clerk said "Hey, we're selling a lot of these lately." I said, "What? Kate Bush?!!" And he goes, "Yeah, a couple just today." I was completely baffled, until watching TV that night, when I happened upon exhibit number two: a Kate Bush song, "This Woman's Work," is being used to promote an upcoming episode of "CSI."
Accordingly, the song jumped into the iTunes Top 100. Weird! As the zeitgeist turns away from one Bush, is it turning for solace towards another? If so, I hope people don't forget The Dreaming, a shockingly strange album that may be the dark star around which the Kate Bush solar system rotates. Released 25 years ago this week, The Dreaming was Bush's fourth album in five years, but the first she produced herself, making it a sort of statement of intention, and that statement is "watch out."
The singer had burst onto the UK scene in 1978 (at age 19), hitting #1 with her comparatively accessible single "Wuthering Heights." While she didn't entirely escape the cynical marketing techniques of the music industry (her label notoriously used a publicity photo that emphasized her, uh, voluptuous bosoms) Bush forged a path on The Dreaming that's hard to imagine any of today's young female singers taking. While the album features a variety of guest musicians, it revolves around Bush's use of the Fairlight synthesizer, whose sound has aged surprisingly well; its imitation trumpets and violins have unique depth and timbre, and Bush wrangles the instrument like a pro. Her production work is all the more astonishing considering the pre-Pro Tools era: track five, "Leave It Open," features at least three unique vocal effects, including a thick flange, a thin, sped-up reverb, and a flashy reverse-echo that zooms in from the right to the left channel. Try it on headphones, it's hella weird. And yes, that voice, one of the more impressive in pop music, or anywhere. While her mannerisms are easily mockable, they're never show-offy; on the contrary, in almost every song, she's willing to push her vocal chords to extreme lows, gravelly shouts, piercing hollers, all in service of the song. Like her beloved Fairlight, her voice is a malleable instrument, a tool for making sounds; this is a singer who makes Bjork look like Ashlee Simpson.
Opening track, "Sat In Your Lap," alternates between 3/4 and 2/4 time; the title track trips along in 6/8; didgeridoos, bongos and even a bouzouki make appearances; this is one kooky listen, for sure. So it's surprising how simple and, in fact, childlike the central element of the album turns out to be: a piano, played in basic, loping chords, like a waltz or a march. It's with this familiar, comforting motif that Bush balances the album's eccentricities, like a children's story that uses the conventions of genre to introduce the surreal and fantastic. Appropriately, Bush's awe-inspiring collection of singles, The Whole Story, was one of my favorite albums as an insufferable 15-year-old; it's hard to separate how much of my feeling for her music now is nostalgia for my early adoration, or unbiased present appreciation. I think it can be both. For an artist whose career contains multiple masterpieces, The Dreaming is where she took control, an exhilarating moment where she aimed her career straight into uncharted territory.
After the jump, mp3s and a video.
MP3: Kate Bush "The Dreaming"
MP3: Kate Bush "Leave It Open"
Video: Kate Bush "The Dreaming"