Fight disinformation:
Sign up
for the free
Mother Jones Daily
newsletter and follow the news that matters.
In this edition of the Top Ten: some French techno, as usual, plus French-Canadian hip-hop, as well as some hip-hop made by ladies, although they're not French or French-Canadian. Plus a mashup with a French band too! And, if you think about it, you can probably see the moon in France, although I have no proof of this either way. Actually, maybe I do.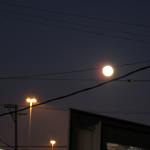 10. The Moon (from The Sky, available outside your house)
Well, I just took that picture there out my window, and you can't really tell since my camera's pretty cheap, but tonight's moon seems extra bulbous and psycho bright, perhaps in anticipation of being eclipsed in just a few hours. I was reminded of Laurie Anderson's "Sharkey's Day," although she was talking about the sun, "like a big bald head / rising up over the grocery store."
9. Parts & Labor – "The Gold We're Digging" (video)

Supposedly this clip took endless hours to shoot, considering each alteration of the background color blocks meant another take, really. The end product is a little like "Fell In Love With A Girl" divided by "Everybody Wang Chung Tonight," both hypnotic and spastic. Thankfully the song is also kind of like that, a noisy double-time stomper that's somewhat reminiscent of Joy Division.
8. The Pharcyde / J Dilla – "Runnin'" (from Jay Deelicious on Delicious Vinyl)
(iTunes link)
Originally on the LA hip-hop group's fantastic 1995 album Labcabincalifornia, this was one of my favorite tracks of that year, before I had any idea who Jay Dee / J Dilla was. Of course, now I know he produced it, and while Delicious Vinyl's altering the credits on these tracks to read "J Dilla and The Pharcyde" is a little silly, it's nice to see they're alerting people to the impact he had on hip-hop. Plus there's instrumental versions!

7. Vitalic – "The 30,000 Feet Club" (from V Live, out 9/18 on Different/Pias)
(mp3 via Kids by Colette, or listen on his MySpace)
Before Justice stole the fire, Vitalic was France's great techno hope. 2005's brilliant OK Cowboy presaged the current crop of electronic CDs that actually cohere as full-length albums. Plus, live, he's actually pretty interesting, and he's beating Daft Punk to the punch by releasing a live recording of a performance in Belgium last year. This is one of the new tracks from that set, a propulsive, buzzing number that seems to fall out of tune now and then, only to resolve itself with greater energy.

6. Payroll – "Daft Prayer" (Daft Punk vs. Bon Jovi) (mp3 via his site)
I know, something Daft Punky has to be in every Top Ten it seems like, but this is really worth it. UK bootlegger Payroll basically leaves Bon Jovi's "Livin' On a Prayer" alone (since it's perfect as is, natch) and cheekily cuts up "Around the World" to fit, creating a combo that's both an awesome dance remix of Bon Jovi and a great way to enjoy both songs at once.

5. Northern State – "Mother May I" (from Can I Keep This Pen?, out 8/28 on Ipecac) (listen on their MySpace)
This all-female answer to the Beastie Boys are actually way better than the Beastie Boys these days, and they seem to make amusing reference to their fellow New Yorkers in this track with the line "I like my coffee with lots of gin." They continue in this fast-paced, witty fashion (did they just rhyme "lemon spritzer" with "Eliot Spitzer?"), and then flip the traditional hip-hop model by having a male guest vocalist do the chorus. Not exactly Lil Wayne, but a hell of an improvement from their 2003 debut, Dying in Stereo.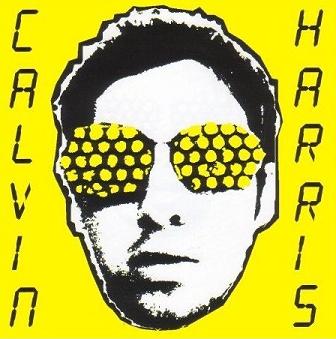 4. Calvin Harris – "Vegas" (from I Created Disco, out 9/4 on Almost Gold)
(grab an mp3 at Ryan's Smashing Life)
People call him the Scottish James Murphy, but he's kind of like the Scottish Mylo, although Mylo's already Scottish, right? Hmm. Either way, his debut album of electro beats is far cheekier than either artist (as you might notice from the title) but just as sophisticated: this track, while repeating the odd line "I've got my car, and my ride, and my wheels," has a strange melody that doesn't really match up with the funky bassline, creating odd chords that stick in your brain.

3. Liars – "Sailing to Byzantium" (from Liars on Mute) (grab an mp3 at Fractostratus or listen to the whole album on their MySpace here)
The New York trio have been holed up in Berlin recently, getting freaky; their last album, the highly conceptual Drum's Not Dead, ended up on a lot of year-end top ten lists, but it took a little more patience than I had available at the time, I think. The new album is more straightforward, but still devastating and somber, and this track is a good entry point: a Portishead-reminiscent, ethereal ode to our messed-up country.

2. VHS or Beta – "Can't Believe a Single Word" (from Bring On the Comets, out 8/28 on Astralwerks)
(mp3 via You Ain't No Picasso or listen on their MySpace)
This Kentucky combo were lumped in with dance-punk hipsters like The Rapture after their 2004 single "Night on Fire," but on their new album they explore the danceable properties of a wider range of rock music. In the chorus, they could almost be Cheap Trick, with big guitar riffs that are perfect for fist-pumping as well as booty-shaking.
1. Omnikrom – "Ete Hit" (video) (from Trop Banane! on Saboteur)

I've had a soft spot for hip-hop en français ever since MC Solaar, but this Montreal combo couldn't be further away stylistically, with a purely electronic backing beat that basically qualifies as "crunk." What are they saying? Other than, er, "Summer Hit," I'm not really sure, but I think I'd like to live inside this silly neon video.