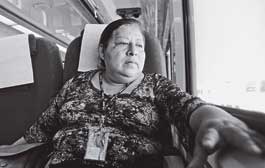 "Sometimes I can't believe the messes I get myself into," said Juana Nicolas, scrutinizing the giant departures screen at Los Angeles' Union Station. It was 8:30 in the morning and she'd just missed the train to the Santa Ana hills, where she had a long-anticipated meeting with a potential recruit. The 5-foot-tall, 48-year-old former nanny and housecleaner is the lead organizer of the Household Workers Project, a grassroots labor group made up of immigrant women who clean houses and care for children across the Los Angeles region. Nicolas paced, wondering how she'd make her meeting with a Mexican housecleaner. "I need to get these to her," she said, clutching a brown leather satchel full of pamphlets, "because that's how we make change."
One person at a time, Nicolas and the Household Workers Project have made inroads with a notoriously hard-to-organize group who tend to be isolated and undocumented. Housecleaners and nannies usually work without contracts or union representation, and have little knowledge of their legal rights. Nicolas immigrated to L.A. in 1998 from Oaxaca, where her involvement with a teachers' union had led to death threats. Feeling isolated and overworked as a nanny and housecleaner, Nicolas began to volunteer with the fledgling Project and took over as lead organizer in 2003. When the group, the only one of its kind in L.A., started in 1998, Nicolas recalls, "There were about seven women, including me, and only three or four would come to the meetings."
Today, as many as 50 women show up for the group's monthly meetings to talk and share a home-cooked meal. Most of the members are in their 40s and 50s, their gray hair dyed red or blond. Many have cleaned houses for more than a decade, and their English is only so-so. But they organized busloads of people during the immigrant rights marches last year, volunteer at voter registration drives throughout L.A., and regularly testify in Sacramento on behalf of household workers. Last year they drafted legislation with the help of state assemblywoman Cindy Montañez to mandate overtime pay for nannies. The bill passed in the Assembly and the Senate but was vetoed by Governor Schwarzenegger, who claimed it would drive the nanny business "underground."
"If we've managed to write a bill, why can't we start our own union?" asks 62-year-old Rosa Gonzalez. "So many of us are treated like animals, like robots. But the things that matter most to our employers, the things that they love most—their children and their homes—are literally put in our hands. And still they treat us this way. We have to know our rights, and we will stand up for ourselves."
But first, the Project has to lure workers out of the shadows. Its 18 team leaders—all household workers—are on constant lookout for new members. "I find them in the supermarket, in the Latino markets, and I go a lot to the agencies," says Mini Carillo, a nanny in Santa Ana. "Some say, 'Well, Mini, but I'm paid well.' And I say, 'Honey, they pay you well, but look at how they treat you—you're not even fed. I'm not saying they should give you caviar, but that at least they should feed you.'"
Many household workers feel they have been taken advantage of by agencies and other organizations, says Nicolas, making finding new members that much harder. "No one believes in unions anymore, or organizations that say they speak on our behalf," she says. If the Household Workers Project is part of any larger cause, it's not old organized labor, but the politically reenergized Latino community.
Four hours and two bus rides after a difficult start, Nicolas finally arrived in Santa Ana. Inside the foyer of her employer's giant suburban house, 45-year-old Angelina Medina greeted Nicolas with a hug. "I am really stunned that you've come all the way from Los Angeles!" she gushed. Medina had heard about the Project on TV and had been talking with Nicolas on the phone for nearly six months, but hadn't been able to make the monthly meetings in L.A. She had worked in the same home for 17 years, helping take care of her employer's 37-year-old son, who is in a coma.
Nicolas knew it might take some convincing to get Medina to join the cause. "This is an incredulous population. You have to show your face," she explains. As Nicolas shared her own story with Medina—crossing the border, leaving her son behind, then working long hours for ungrateful employers, and converting the pain of separation into love for other people's children—Medina was won over. "I really want to absorb myself in the work that you're doing," she told Nicolas. Later, in Medina's meticulous bedroom, the two women belted out the verses of a tragic ranchera together, singing of the things an older woman understands about life, work, and love—and of the strength she finds despite it all.