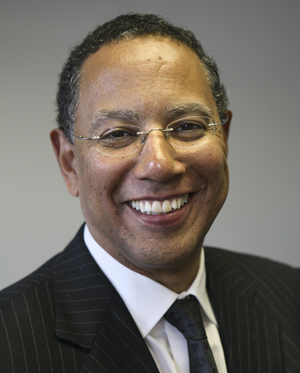 This interview was conducted on December 15, 2006.
MJ: How's life after the Los Angeles Times?
DB: [Laughing.] The first thing I'm going to do is sit-ups to get rid of my middle-age potbelly.
MJ: John Carroll brought you to the Times in 2000. Was it still owned by the Chandler family?
DB: No, John and I both showed up when the Tribune Co. owned the paper. Tribune brought in John, after it bought the paper from Times Mirror, and then John hired me.
MJ: What drew you to the paper and did you have any discussions about what kind of influence Chicago was going to have over Los Angeles?
DB: What drew me to the paper is that I thought and still think the LA Times is one of the three or four best papers in the country. The great papers that compete on the biggest stories are the LA Times, the New York Times, the Wall Street Journal, and the Washington Post. And part of it was the chance to continue to be involved with a paper like that, because I had been at the New York Times. Part of it was the chance to work with John, whom I had heard a lot about and whom I had gotten to know in a couple of conversations. And in those early discussions, the person who headed the publishing group was Jack Fuller. Fuller made it clear to me that he wanted to maintain the LA Times as a great paper.
MJ: Did that mean resources?
DB: We never had any conversations about cuts when I started. We really didn't. It's popular now to say–and some people at Tribune have said this–that some people confuse resources and quality. Well, that's bullshit. It just is. The best papers in the country, if you made a list of the finest papers in the country, I promise you there would be a relationship between resources and quality. It's illogical to assume otherwise, and I think that newspapers that try to convince themselves otherwise are really just kidding themselves, especially at a time when we're making more demands of newspapers. This is a time when newspapers have to become, for their future, very much engaged in the web; online is going to be very big part of the future of newspapers. I don't think anyone can make an honest argument that having fewer people will make newspapers better. If you want to say having fewer people makes more money for a company, that's a debate we can have. But anybody who says there's no relationship between the quality and size of staff is just simply kidding themselves.
MJ: When was the first sign that the Tribune Co. wanted to do things differently than you had intended to do things?
DB: It's tricky, because the timing of these things is not so direct and clear. Early on, there were some cuts that John and I made that we understood. Everybody was cutting. I'm not radical in saying that newspapers shouldn't be realistic and cut, but my issue was that there was no plan and it was just constant. It wasn't going to end. I think, though, that some of the push for cutting coincided with Jack Fuller's departure.
MJ: When was that?
DB: Jack left as head of the publishing group in 2003. It's hard to tell whether it coincided with Jack's departure or whether Jack's departure coincided with a period when newspapers were becoming overly paranoid and were starting to cut too much.
MJ: When you talk about newspapers being paranoid, what do you mean?
DB: You just get the sense that a lot of newspapers are cutting without any plan. There are not enough people saying, "Okay, well maybe we can cut here so we can build on the web." Some people have criticized me for not saying, "Let's cut here and move resources to the web." The reality was that's not true. That's exactly what I proposed. I proposed that we build up more resources on the web.
MJ: When did you propose that?
DB: A year ago. But I think the reality is that newspapers are in a panic. The cutting is not part of anything. It's not moving towards anything. It's not part of a plan. It's to prop up margins that maybe can't be propped up at the same level.
MJ: Am I wrong in saying the LA Times was profitable?
DB: It's very profitable.
MJ: It's been reported that the margins were 20 percent. For a print business, that seems pretty good.
DB: It's very profitable, but what they're worried about–and this is not an irrational fear–is that the people who advertise in newspapers are changing and are starting to move some of their business to the web. To me the response to that, especially if you have a public-service mission, is to protect newspapers. The response to that is to, I would argue, invest and build. I think, though, what a lot of newspaper companies are doing instead is just cutting in a panic. And I would add one thing:
We are not a regular business. It would be very interesting for someone to accumulate and try to add up in dollars and cents the benefits that newspapers get from the public. We insist that the mayor and governor give us office space, meet us when we want to meet with them, let us follow them around; we insist that the military let us travel with them; we insist that the president have press conferences for us so we can communicate to the public. There aren't a lot of businesses that can make those kinds of demands of the government or even private business. I think we get those sorts of things because we have an unwritten contract. In return we're going to act a little bit like a public-service institution, and I think we can't forget that and we can't act like we are just a regular private business, because we're not. We get too many benefits from the government and too much responsibility to act like Microsoft.
MJ: You look at the Tribune Co., a company that has a baseball team, a number of newspapers, a magazine, etc. What they were demanding from the print journalism side, even though it was a profitable company, seemed out of line with the resources that had to be devoted to putting out the product.
DB: I think that's true.
MJ: What do you think about these big companies that were fashionable in the '90s, that now seem less fashionable, that had all these different aspects feeding into each other?
DB: It's interesting. Richard Parsons has been quoted in the Wall Street Journal as saying synergy is dead. A lot of people have said that. I don't know if synergy is dead. I think synergy in the newspaper business was greatly exaggerated.
MJ: How so?
DB: I think people thought it was greatly exaggerated and dangerous. Greatly exaggerated because people thought there were millions of dollars to be mined in having newspapers exchange more copy with each other in big newspaper chains. And there was some money to be mined, but it was never as much as people thought.
The second thing I would say is it has to be done very carefully. I worry as big newspaper companies start to rely more on each other for foreign coverage, for instance. How many newspapers are covering the war in Iraq versus the number that covered the war in Vietnam? This would be a great exercise for Mother Jones.
More and more newspapers are relying on a handful of newspapers to cover Iraq. There's a handful of newspapers day in and day out in Iraq right now, and that's not good for the country. I think if people knew how few people we were relying on to tell us what was going on in the war, they would be appalled.
You've got to have a lot of voices covering a war. You've got to have a lot of different perspectives covering a war and covering big stories. One of my concerns is it means fewer voices. And whenever you tell that to the business side they sort of laugh at you.
MJ: I look at the big five papers, and what you see is wire copy on the front page, and people wonder why people aren't reading newspapers anymore.
DB: Yes, I think that's right. Some of the decline in newspaper circulation and readership is because the world is changing and there's a whole new generation online, but some of it is self-inflicted. John Morton, the newspaper analyst, has said that even as newspaper circulation has been declining over the last 30 years, newspaper profitability has been going up over the last 30 years. Some of our problems are self-inflicted. We don't promote newspapers. Newspapers spend appallingly little money telling people what's in them and how important they are to society. We trim so much stuff without understanding the real impact of it.
MJ: What do you look at as the biggest or best investigative stories that you did?
DB: I think we won a total of 13 Pulitzers. We had one year when we won five, which is the second most that any paper has won. The biggest story we were involved in covering was September 11th, and I think the LA Times did as powerful a job as any paper could have. There are some investigative stories that we are really proud of. David Willman did some excellent stuff on the FDA. The metro staff did a terrific job on the King/Drew hospital, a troubled public hospital in L.A. We have done some great stuff this year on various transplant programs around the city, just some really hard-hitting investigative stuff. I am very proud of the Arnold Schwarzenegger groping story we did, even though we took a lot of criticism for it.
MJ: You did a Riggs Bank story?
DB: We did a lot of stories on Riggs Bank. Ken Silverstein did that. We also did some great stuff on Harry Reid, the senator, which was groundbreaking stuff by Chuck Neubauer and some other reporters. We also almost every year have had a finalist or winner in feature writing, and that's a great combination to do. It wasn't just Pulitzers though. I think we made the paper better, and I think we made it a happier place to work.
MJ: You urged the staff not to strike, is that correct?
DB: I urged the staff to cooperate with the new editor who took my place and with the new publisher. Partly because I have a lot of respect for the new editor and partly because I think the most important thing a newspaper can do is cover the news.
MJ: Bloggers say that you guys are the dinosaurs and they are the future. What is your response to that?
DB: I think the best bloggers are a terrific part of journalism, and I think the web has opened up a door for individual journalists to do work. I think that's really important. I also think that we weren't getting criticized enough, and while I sometimes get angry at them, I think it's healthy for us to take our licks given that we make a living dishing it out. All that said, I think it's ridiculous to say that newspapers are dinosaurs. Newspapers remain the primary source of information for every other medium–about war, about government, about local government. Nobody has yet to invent a better model for having lots of people out in the city, out in the state, and out in the world and in Washington finding out important things and bringing it back to readers. If newspapers disappeared tomorrow, I'm not sure what many bloggers would have to write about, and I don't think you can replace what they do. Nobody can do what newspapers are doing when it comes to covering the war in Iraq. Bloggers are important, but nobody can replace what newspapers are doing right now. And if people think otherwise, they're kidding themselves.
MJ: When did it become obvious that the cross-ownership model was going to become untenable?
DB: I don't know that the cross-ownership model was untenable. What was untenable were the specific ownership demands being made of me and specific cuts being asked of me. It didn't become obvious to me until they started asking for cuts several months ago. I had done, along with John, significant cutting in the paper. We had cut 25 percent of the staff or more, from the newsroom, between layoffs, buyouts, and attrition. When they came back for more, I thought it was untenable. I said, "This is at the point now when it is going to hurt the paper." I don't know how you can keep leading a newsroom when you have an annual bloodletting. I don't know how you keep people focused on what they are supposed to do, especially when you can't give them a good reason for it.
MJ: How did you feel about the Chicago Cubs giving Alfonso Soriano a billion dollars after the Tribune had asked so much of you in terms of cuts?
DB: I'll pass on that one.
MJ: Are there lessons to be learned in this story and what does it say for the future?
DB: I think the lessons are that I wish newspaper companies would stop panicking and would start coming out with thoughtful plans for the future and understand that they're not just regular companies, and that they have a bigger responsibility to the community and not just to their shareholders. I think if everybody would just calm down a bit and remember what their mission was and invest in the future, I think we'd all be better off down the line. That's what newspapers used to do–invest in the future.